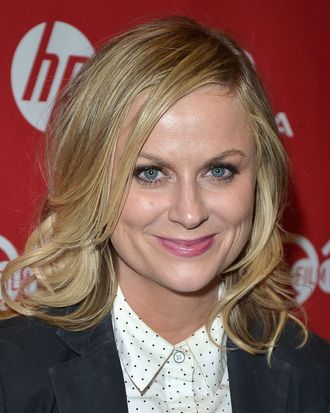 Photo: George Pimentel/Getty Images
Your favorite brunch date Amy Poehler always has a new perspective on things for you, from teenage summer jobs to millennial gender fluidity to how to criticize questioning you don't like. In an interview with Elle, Poehler talked about both Parks and Recreation and Broad City, and the strong, positive female friendships at each show's center. Poehler says she realized if she wanted to be part of TV shows with these types of relationships, she had to make it happen herself:
You learn early as an actor that creating your own material is the only way to have any control. Hollywood is like a bad boyfriend. You can't stand around and wait to be asked to dance. I used to say that I wanted to make great art with people I love. Now I have an addendum to that goal: to get things on the air.
You ask yourself to that dance, Amy! You show up that annoying boyfriend with your own big plans.
NB: Poehler also uses the word "bossy" in a positive sense to describe herself as a child. This word really should be brought over to the light side. Everyone do that now. Please.