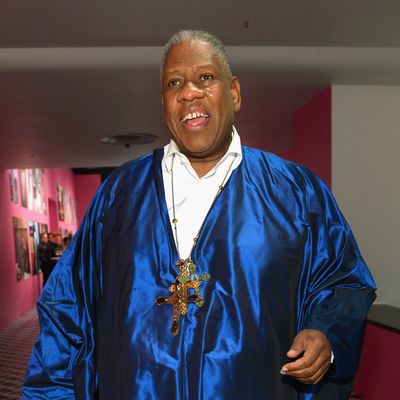 Photo: Charley Gallay/Getty Images
"I miss the gilded cage. That's with a capital G and a capital C," Andre Leon Talley told the New York Times about Vogue, after finally settling into his new gig as the artistic director of Zappos Couture. The company is rebuilding its little-known couture site on ALT's larger-than-life-personality and stacked Rolodex of designers.
This job might not sound as cushy as his past stints, but as he revealed to the Times, it offers its own advantages. "I took the job because I felt that this was a new experiment that I needed to have going toward the future because digital and online is so important in today's world," he said. He was also refreshingly honest about the job's financial perks: "Money isn't everything, but when you become my age at 65 and you're thinking of going into the second, the third, the fourth stage, you have to think about money," also adding that the salary is "very generous, very generous." As if being paid in experience and fat piles of money aren't enough, his new employers have kindly offered him the ability to purchase all the Uggs he could possibly want from the Zappos site: "He can definitely start buying Uggs on our Zappos site," said  Jennifer Sidary, the head of Zappos Couture. "We actually even carry his size. Maybe I can get him to start buying his Uggs online, right?" Who says Vogue gets all the perks?