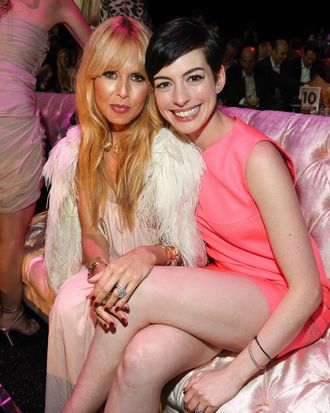 Photo: Imeh Akpanudosen/Getty Images
We should have known when Anne Hathaway wore novelty animal-face mittens for adults last week. (Sundance is a movie festival, not a Raffi song, silly Anne!) We should have known when she wore a sophisticated Dartmouth-green suit, subtly sultry camisole, and a jaunty brooch on the red carpet. Hathaway was going through a stylist breakup, therefore she had to look damn chic (sexy suit), but also like she didn't care about looking chic (fauna mittens). Hathaway has split from stylist and human wide-brim hat Rachel Zoe after a decade-long relationship.
Serial stylist-haver Hathaway already has her next thing all lined up — she's been working with stylist Penny Lovell. Styling Rose Byrne, Taylor Schilling, Bella Heathcote, and Mary Elizabeth Winstead previously, Lovell's got a thing for a formal jumpsuit and structured menswear.
A source informed E! News that the Zoe-Hathaway power couple isn't over-over: 
Rachel and Anne aren't currently working together. However, their relationship isn't over. Anne is just trying out something new for the time being.
Hathaway and Zoe reportedly ran into each other at the Beverly Hills Farmer's Market. Is chatting amicably with an ex at a farmer's market a new rite of passage?