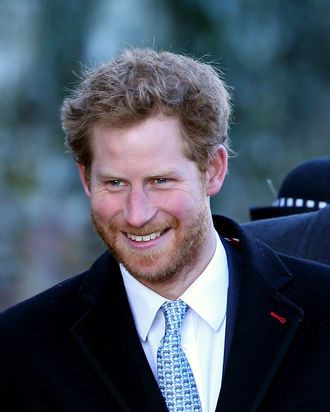 Photo: Chris Jackson/Getty Images
This weekend, Instagram evidence revealed that Prince Harry is still sporting his hard-earned Antarctica beard. The beard, which Harry is apparently expertly growing out to impress his lady, Cressida Bonas, in person (because you can't FaceTime from the South Pole?), started out as wee ginger stubble, but has grown into bona fide orange face-fur. And this is, apparently, highly offensive to Harry's grandmother, Queen Elizabeth.
The queen reportedly proclaimed that Harry must shave off the beard, according to the Daily Mail. Even though Kate and Wills were into it at Christmas, Her Royal Highness gave the facial hair the stink eye, or as the Daily Mail put it, "let her displeasure be known." She, like many women out there, don't mind how hairy her men get when they're in the wild — whether it be for an Antarctic trek or a Vegas bachelor party — as long as they're clean-shaven when they get home. When you're the Queen of England, you can actually declare your entire home a beard-free zone.

Cressida was spotted at the same bar with Harry this weekend, so who knows how long Harry can keep up the whole Grandma, I want to show my girlfriend my whiskers! charade before she calls him out. There are reports, however, that the two are on the outs, so maybe there's a breakup shave in Harry's future anyway. Though one hates to go against the queen, we're decidedly pro-luscious locks. So Harry, maybe it's time to ditch Barbie and let that beard be its beautiful, beastly self in the States.