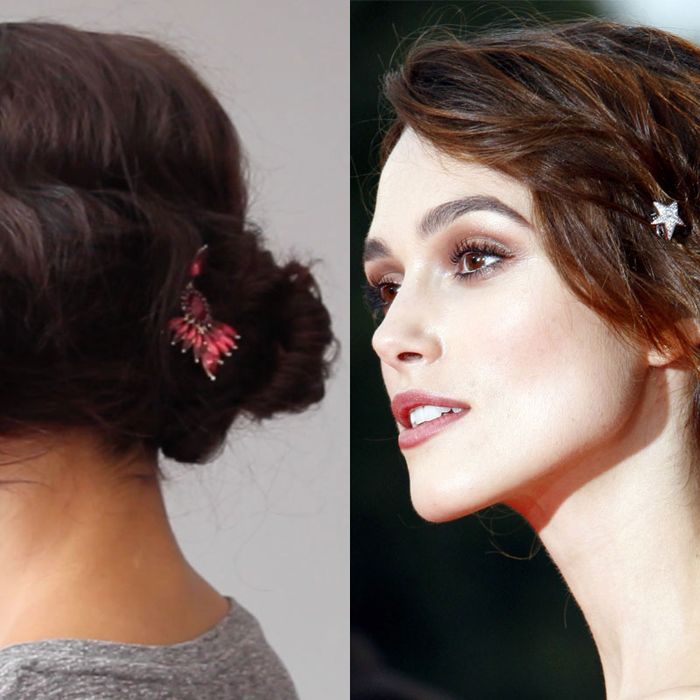 Every time you see a picture of Keira Knightley's hair and think, I wish my hair looked like that, there's a 99 percent chance that celebrity hairstylist Ben Skervin was the one responsible for the perfect, artfully mussed hairstyle. Skervin and Knightley met on a Harpers & Queen shoot ten years ago, and have been working together ever since. In addition to being lauded as one of the world's best hairstylists, he also has worked on the heads of Madonna and all the Spice Girls. Naturally, we had to have the Vidal Sassoon Pro celebrity hairstylist into the Cut office to do our next series of beauty GIFs, which should really unofficially be titled, "How to Get Our Hair to Look Like Keira Knightley's All the Time." This week, he shows us how he did this updo on Keira Knightley at the Venice Film Festival. The look is a wavy, romantic, "falling stars" updo.
Step 1: Start by curling your hair using a one-inch curling iron. You will want a pretty big curl, so after wrapping the hair around the barrel, hold for fifteen seconds, and then release.
Step 2: After curling the entire head, use a brush to comb through the curls, loosening them into waves. Skervin uses a Mason Pearson brush here and keeps the hair at its natural part.
Step 3: Skervin back-combs the entire head at the root using a rat tail brush and pushing against the hair at the root twice to fluff it up. He says that fluffing it any more than that is excessive and too hard to wash out.
Step 4: Use an elastic to gather the hair into a loose ponytail at the bottom back of the head, leaving a section open in the front. He makes a ponytail that has a tiny amount of volume above it. Don't overthink how much hair to leave in front because this will be pinned back later.
Step 5: Skervin twists the ponytail into a loose bun around the elastic and pins.
Step 6: He loosely gathers the loose hair in front and pins it just in front of the bun. If your hair is longer than the length of the bun, you can also pin it underneath.
Step 7: Skervin sprays the hair using Vidal Sassoon Extra Firm Hair Spray.
Step 8: For Keira, Skervin used Chanel clip-on earrings from the movie Atonement and pinned them to her hair. As Keira wasn't available to lend them to us, we used a clip-on earring from Bauble Bar (this one is similar to the one seen on Keira). If you are using an earring as a hair adornment, Skervin recommends securing it with pins using the back of the clip-on closure.
Step 9: The final look.