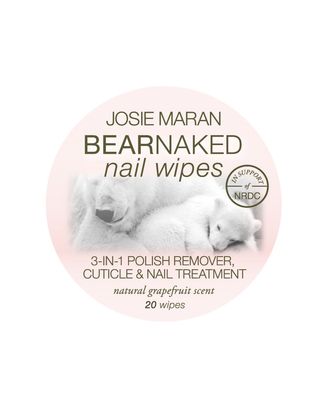 Despite all the innovations that have occurred in the past twenty years, one thing in the beauty world remains true: Nail polish removers are perpetually gross. (Well, two things. The other: Anti-cellulite product launches should come with Prozac.) Nail polish remover stinks worse than Jay Mohr. It leaves your nails more stripped than Miley Cyrus. Most attempts to mask the smell are futile exercises in covering the scent of acetone. I have smelled "mango," "passion fruit," and "vanilla" nail polish removers, and let's just say you wouldn't want any of them as candle scents. When I crack open a bottle of nail polish remover in the office, people instantly swivel their heads towards my desk to discover the source of the foul odor. But when I used Josie Maran's Bear Naked Nail Wipes, I got zero accusatory glances. No one even noticed. 
The Naked Nail Wipes come with small, circular cotton rounds soaked with an acetone-free argan oil remover mixture, and each one is large enough to cover multiple nails. A perfect amount of product is dispensed in each wipe, enough to quickly remove polish, but not so much that it leaves your hands a greasy mess. For glittery nail polish, you may need to scrub a tad harder. Best of all, the mixture removes nail polish, soothes cuticles, and moisturizes your nails at the same time. And it smells minty fresh, which is innovative enough.
Josie Maran Bear Naked Nail Wipes, $9 at Sephora.