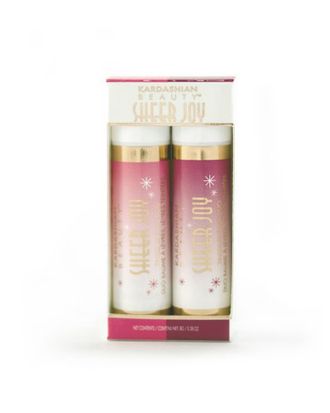 I am not a huge Kardashian fan girl. Yes, I think Kim Kardashian's hair is pretty, but I've never visited Dash and I haven't kept up with the Calabasas Kennedys since the wedding-that-shall-not-be-named. I took a selfie with Kourtney once at an event and she bestowed upon me a pineapple, along with various other fresh fruits, which I brought back to the office. But yes, I like Kardashian Beauty and I will not lie. It is not my secret shame, which is why I am telling you that their Sheer Joy chapstick is one of my new favorite winter beauty products.
The chapstick is so good because it's everything the Kardashians are not: subtle (apart from its hot-pink labeling) and simple. It's like a less waxy version of your favorite Dr. Pepper Lip Smacker. It is gently scented (it smells like a not-unpleasant version of your grandma's melted candy dish), and a Cherry and Berry Kiss stick come in each pack, imparting a pretty pink- or berry-tinged sheer glow to your lips that's like a drugstore version of Fresh's cult Sugar Lip Treatments. It's also super moisturizing, goes on slickly but not greasily and lasts for hours thanks to "emollient ingredients" (I can't tell which, since they aren't described on the package). I hope Kimye remembers to include it in their wedding goody bags as they're training Pekingese dogs to perform a barking rendition of "Blood on the Leaves" or whatever other high jinks they have up their sleeves.
Kardashian Beauty Sheer Joy Tinted Lip Balm Duo, $4.99 at Amazon.com.