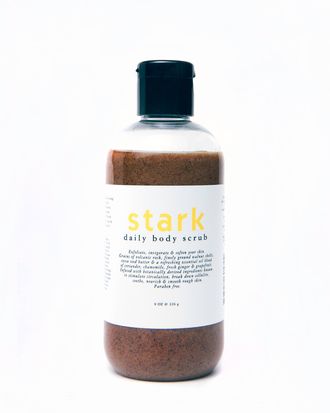 Most body scrubs aren't known for having sophisticated fragrances. There are no sites devoted to debating the top notes of Lever 2000. But Stark Daily Body Scrub has the invigorating, jolting scent of your favorite wake-me-up juice.
Whether or not you like the scent of this scrub depends on whether you enjoy juices with names like the Ginger Fireball, or the pickled ginger next to your sushi. Paz Stark, the founder of the cult Stark Waxing Studio, partnered with Los Angeles perfumer Persephenie to create this unique ginger-based scent. As with your favorite juice, it feels like a direct IV drip of energy. The smell hits you first, with a strong concentration of ginger, whose pepperiness is mellowed by zesty notes of grapefruit and coriander. The scent of the scrub is buoyed with small grains of walnut, volcanic rock, and soothing red algae that are so finely milled that scrubbing exerts as much effort as moisturizing. It leaves your skin feeling softer than Channing Tatum's soul. I use this body scrub after working out, when I'm not in the mood for a cloying or thick fragrance or anything floral, but want to smell and feel starkly clean.
Stark Daily Body Scrub, $18 at StarkWaxingStudio.com.