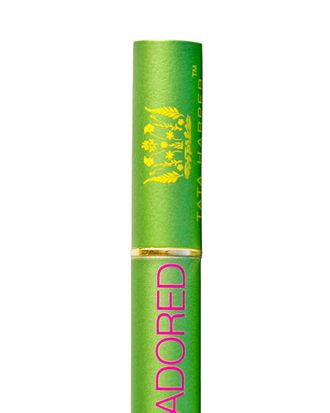 Before J.Crew was the ultra-stylized, Jenna Lyons–fueled fashion brand it has become, it was associated with catalogues filled with 100 percent cotton, khakis, and nary a sequin. Models had unfussy hair and wore natural makeup — not in a minimalist Calvin Klein way, but in a girl-that-lives-next-to-your-Vermont-farm kind of way. Before the brand introduced a red lipstick to the catalogue in 2004, models wore flushed cheeks and  flushed lips; highlighted with a natural gloss, if any at all.
Tata Harper's Be Adored Lip Treatment recalls that popsiclelike J.Crew lip of yesteryear. Made of 100 percent organic ingredients like beeswax and a plentiful mix of olive, green tea, apricot, avocado, and vegetable oil, it's even natural enough to please your old J.Crew self. Harper harvests all her ingredients from an actual farm in Vermont, and packages the treatment in a small, slim tube that imparts a rosy sheen of moisturizing color to your lips. It's supremely smooth and you can swipe it on multiple times a day without getting sick of it.
Tata Harper Be Adored Lip Treatment, $29.50 at Amazon.com.