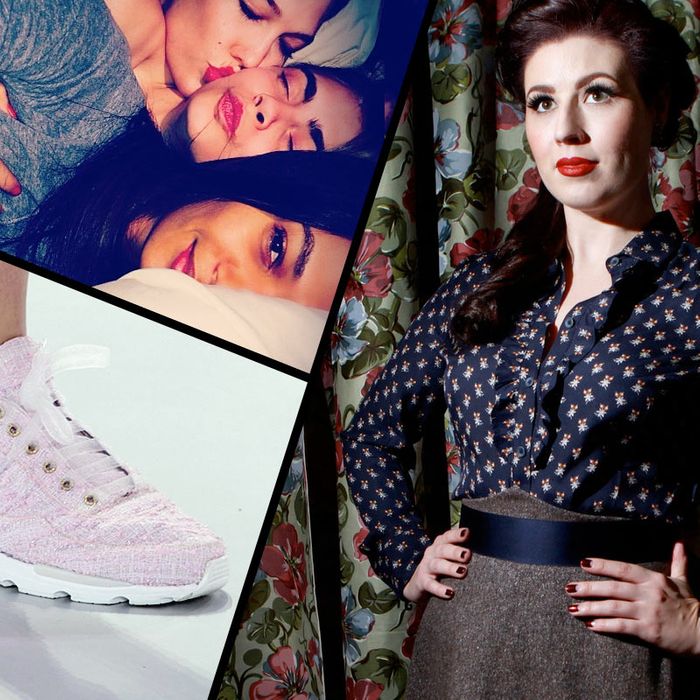 This week's pursuit of woman-relevant topics led Cut writers to question feminist underwear ads, try "natural" weight-loss supplements (heavy on the quotation marks), and consider the couture sneaker.
1. Is feminism the latest fashion trend? Ugh, don't even ask that, writes Allison Davis. Fashion should stop co-opting political -isms.
2. Do rubber soles make couture hip? Isabel Wilkinson and Leah Rodriguez analyze Dior's swanky pool shoes and Chanel's pearly, lacy, python trainers.
3. How "guilt free" is that SodaStream? Kat Stoeffel investigates, after someone says, "Enjoy your Palestinian blood cocktails" at her holiday party.
4. Can the anti-Photoshop revolution sell you some underwear? Maureen O'Connor turns a skeptical eye on American Eagle's anti-Photoshop sales campaign.
5. Is asking tennis players who they're crushing on sexist? Only if we just ask one gender. Ask everyone! Kat Stoeffel (and I) want to know who everyone likes.
6. To invite the boys or no? Ann Friedman makes the argument for banishing men every so often and having an all-lady party.
7. Do you need something artsy to talk about this weekend? Erica Schwiegershausen interviewed Samia Halaby, an abstract painter, and Fortunato Castro, who took a series of self-portraits dressed as his mother. Take your pick!
8. Should we be overthinking these intimate pseudo-lesbian supermodel Instagram posts? In response to Cara Delevingne's and Joan Small's Instagrams, Allison Davis wonders about whether they're striking playful Sapphic poses or using lesbianism as provocation.
9. Do those natural weight-loss supplements actually work? Cheryl Wischhover tried the least sketchy ones she could find, but she notes that putting quotation marks around the word "natural" is necessary.
10. What are vintage-obsessed dressers all about right now? Marisha Camp spoke to women at the Manhattan Vintage show and snapped photos of a lot of old-school wool.