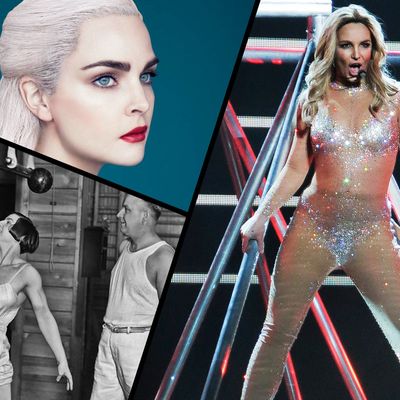 Photo: Erik Madigan Heck; Ronin 47/Splash News; Max Haas/FPG/Getty Images
This week's pursuit of woman-relevant topics led Cut writers to block their mothers on Twitter, defend their hideous gym clothes, and write the history of the nude body stocking. 
1. What "big lie" should you confront? The falsehood of the fertility timetable, according to Tanya Selvaratnam, a Sri Lankan-American performer, writer, producer. Vanessa Grigoriadis interviews her.
2. How should you rethink your working-out wardrobe? You can go full-tilt toward the ugliest rejects of your closet, you can try some of these way-retro garments (leg lifts in heels!), or buy cool new pieces for the gym.
3. Who should you seek to make some contact with? Well, did you carefully peruse Craigslist's Missed Connections after New Year's Eve? Erica Schwiegershausen collected some of the best. There is ralphing, peeing, and kissing — and somehow it's all pretty cute.
4. What "daring" fashion choice should you consider in its historical context? Why, the nude body stocking, of course. Upon the debut of Britney Spears's sparkly Las Vegas debut, Isabel Wilkinson and Sally Holmes got the rundown on this garment.  
5. How should you best aim to repair some family tension? Just try blocking your mother on Twitter.
6. What fashion divides should you consider crushing? Allison Davis considers a Times piece on the division and influence of Street Style versus Fashion in 2013.
7. What should you gaze upon, immediately? Kathleen Hou interviewed MAKE cosmetics creative director Ariana Mouyiaris on their Erik Madigan Heck collaboration. Slideshow of his Polaroid-inspired vision included.