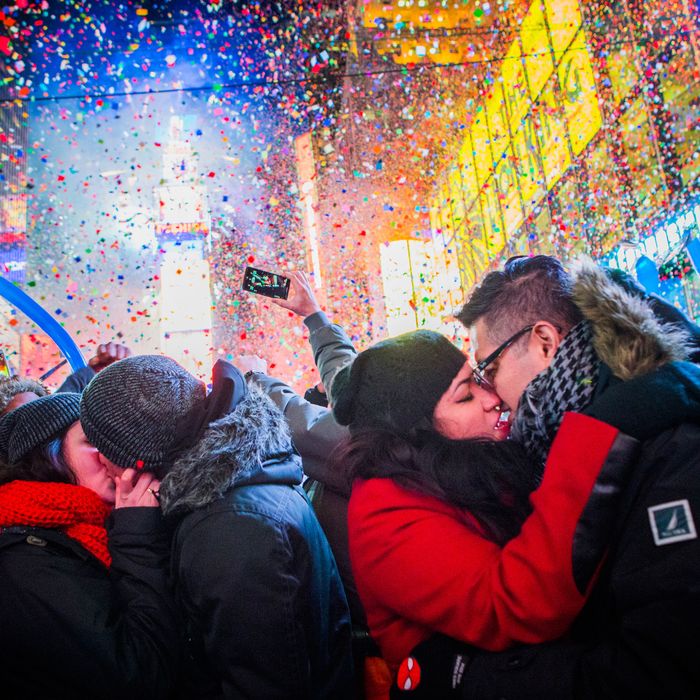 Photo: Christopher Gregory/Getty Images
Intrepid, inebriated New Year's Eve revelers, fear not! Despite that you failed to act on your nerves, remember how you got home, or whether you even kissed that cutie at midnight, you too can find the handsome stranger who gave you that great slow-cooker recipe. Perhaps he is even looking for you at this very moment in Craigslist's Missed Connections (which, we've established, sometimes works). Simply rack your brain for what your stranger of interest was wearing (an animal hoodie, an incredible red dress, a black dress with a neon pink accent), take a stab at guessing her height, mention how you maybe threw up on her, and, voilà!
We kissed at midnight then you ran away! - w4m - 25 (Downtown)
You - 5'8 scruffy, glasses, wearing a blue hoodie outside the Vid and I asked you for a lighter. You lit my cigarette and we talked about our wishes for the new year. We heard the countdown starting and decided to stay outside. I started to cry and you kissed me, and then we started to make out. After a minute I felt something warm and realised that you pissed yourself. I pushed you away and that's when you ran but I wish you had stayed. You peed on me but it's OK! I just want to know who you are! Please reply and when you do tell me why I started crying so I know it's you - if you remember.
Accidental nye ralphing - w4m
I met you at the boundary. We danced. We laughed. I liked it a lot. I mayyyy have gotten kicked out for vomiting on you. I'm sorry I'm not sorry cause it was the most wonderful NYE I've ever had. Email me maybe.
You sprayed me in the face on New Year's Eve - m4w - 32 (Burnet HEB)
You were a very pretty woman and you pretended to spray me in the face with some sort of household chemical as I walked by you. I should have tried to talk to you, instead I copped out. You were possibly with your boyfriend or husband, hopefully not. Have a drink with me and I'll gladly take you to HEB and you can spray me with household chemicals 'til your heart is contented. Happy New Year.
New Years Eve & Crock Pots - m4w - 23 (Fox & Hound Mayfield)
We had a pretty intense conversation about slow cookers/crock pots.
I played a couple Nsync songs and a Panic! song for you.
You gave me a recipe to try AND a hug (first hug of the year..lol)
I have a couple questions for you regarding your recipe…
Whats your name and what recipe did you give me for the slow cooker? So that I know its you.
Hoping by some chance you find this
New Year's Eve at universal, you asked to bite my butt - m4w - 28 (Universal)
Hey I know this is a long shot. But I met you tonight you were in a black and white dress, your friend was in a black dress with neon pink accent. When we first talked we took a picture your friend told you to behave, I thought she told me to behave. The next time we talked you asked to bite my butt I had to decline. Well I want to see you again please I hope you see this. I thought you were fun and want to see you.
New Year's romance - w4m - 24 (MARKET lounge)
My memory tells me your name was Zach-with-an-H,
though now I'm not so sure.
What I do recall are your coy dance moves,
your sexy chest hair,
and the heat of our basement escape.
O, midnight lover,
The chemistry was unreal.
I couldn't wait to get to know you
Wherever did you disappear to?
Belmont Red Line New Year's Connection - m4w - 38
Looking for tipsy woman with beautiful smile who got crammed next to me on train. You laid your head on my shoulder for support then proceeded to look up at me occasionally and smile as you settled in, making the experience feel so natural. As you exited train, I asked if you were ok, and you said yes, and kissed me on cheek, my first kiss of the New Year. I hesitated to follow you for fear of scaring you but berated myself for staying on train. Would love to see you again and see if the connection was just alcohol induced or something more genuine and real.
3 boys next to us at kellog's diner at 6 AM - w4m (kellog's diner)
HI
my friend and i were sitting next to 3 boys at about 6 AM this morning (new years day) at kellog's diner on metropolitan and union. we thought it was hilarious that you ate our food when we left, and we totally want to be friends with you.
if it's you let us know what food we left you!
:)
who did i make out with last night - w4mw - 22 (atlas? maybe??)
you are a girl i think or maybe a boy. We made out but im not sure. I'm a girl with brown hair also I wear glasses but I think I took them off and they were in my purse. If we made out please let me know thanks or send a pic so I know you are hot
BJs in Allen New Years Eve - m4w - 46 (Allen)
To the unbelievably beautiful brunette in the unbelievable red dress in BJs in Allen on New Years Eve. It was difficult watching the date you were obviously on. You were the most attractive lady in the place, and your date, well, Bubba didn't stack up. Showing up in a camo jacket with an Atlanta Braves baseball cap was an insult to a beautiful lady like you. When he pulled out the floss stick at the table, I almost laughed out loud, but also felt bad for you. If it didn't work out, and you'd like to go out with a real man that knows how to treat a lady like yourself, give me a shout!