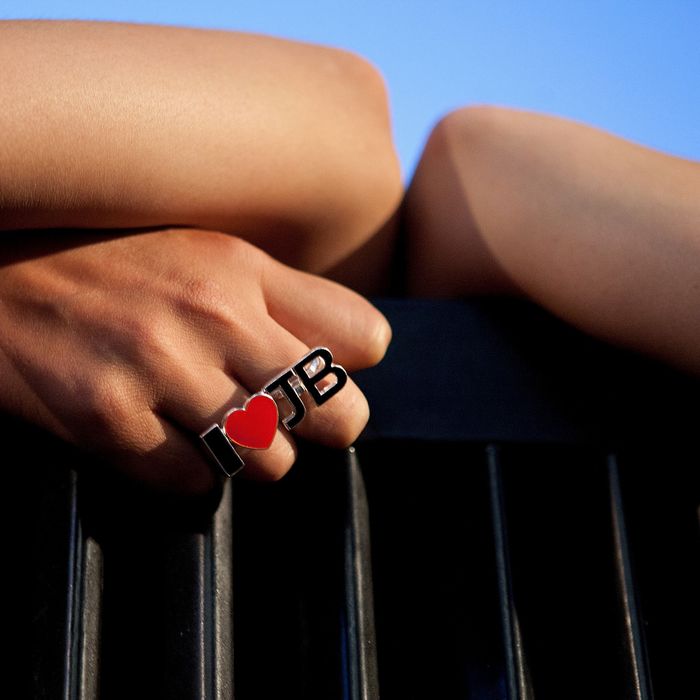 Photo: Pablo Blazquez Dominguez/Getty Images
Hopeless romantic street-tuff Justin Bieber is a well-documented sweetie: Every aspect of his artistic output confirms that his true professional goal is to be a Boyfriend. So of course he has really sweet Valentine's Day plans. After demonstrating his love for Miami-Dade County with the romantic gesture of hurling his sports car across its wide streets, it appears Bieber has earned the continued attentions of the greater Miami area. The AP confirms Bieber has plans with the south Florida county for a very special Valentine's Day court date.
Insiders have not indicated that this will be an intimate day of walking on the beach and discussing childhood memories. Representatives haven't verified that it will include a nice dinner at a restaurant with a tablecloth and the sushi boat for two. Sources have yet to confirm that this special day will be made out of ribbons and sunbeams and inspire romantic poetry for the ages to come.
Anyway, the AP reports that it is possible that Bieber's lawyers will be able to file his plea in writing, which would be a very sad Valentine's Day for Mr. Bieber. I suppose he will just have to watch the well-timed second season of House of Cards with the rest of us lonelies.