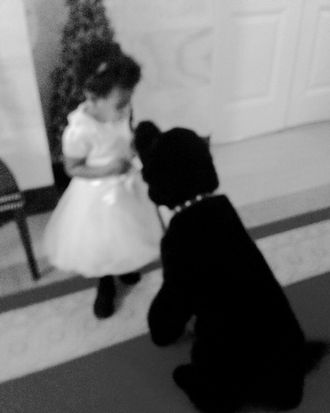 Photo: Courtesy of I am Beyonce
Michelle Obama banned cell phones and social media from her 50th birthday party Saturday night. Which means these pre-party photos of Blue Ivy playing with first dog Sunny, posted to Beyoncé's Tumblr, are the only visual record, so far, of what "Page Six" called "the party of the year." Consider us satisfied! Beyoncé reportedly performed a half-hour set in between performances by Ledisi, John Legend, D.J. Cassidy, and Stevie Wonder.
Less viral guests included: Janelle Monáe, Samuel L. Jackson, Angela Bassett, Ashley Judd, Gayle King, VP Joe Biden, Attorney General Eric Holder, Smokey Robinson, Billie Jean King, Alonzo Mourning, Magic Johnson, Emmitt Smith, Ahmad Rashad, Google's Eric Schmidt, Facebook's Sheryl Sandberg, Disney's Bob Iger, 32 Advisors' Robert Wolf, American Express's Kenneth Chenault, Blackstone's Tony James, Carlyle Group's David Rubenstein, Haim Saban, Paul McCartney, Nancy Shevell, Bill and Hillary Clinton, Mary J. Blige, Jennifer Hudson, Gladys Knight, and Steve Harvey.