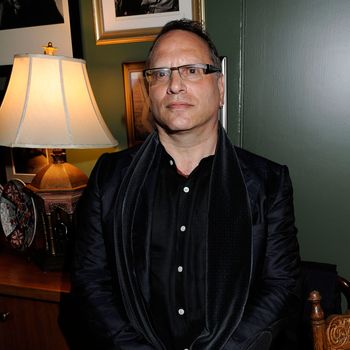 Photo: Eugene Gologursky/Getty Images
In a 2013 essay for GQ, Friday Night Lights author and fanciest dandy Buzz Bissinger revealed his monumental shopping addiction. He chronicled, in dizzying detail, the astonishing quantity of clothing he had purchased, which included "eighty-one leather jackets, seventy-five pairs of boots, forty-one pairs of leather pants, thirty-two pairs of haute couture jeans, ten evening jackets, and 115 pairs of leather gloves." Most of it was Gucci. One coat cost him $22,000, but that was just a drop in a bucket considering that he spent over half a million dollars on clothing in the course of two years.
For Bissinger, that essay served as a turning point in the problems (including shopping addiction) that led him to enter rehab last year, as he reveals in a new interview with Vanity Fair. We're glad to hear Bissinger got the help he needed. But we, and Vanity Fair, can't help asking an indelicate question: What happened to his wardrobe?
"It's sitting in a storage locker," he tells VF. "I pay $244 a month for an enormous storage locker. It looks like the mob just stole a truck from Gucci and Ferragamo and Prada. It's gorgeous. It's climate controlled. It's just sitting there, kind of pathetic. But it's nice stuff. I keep the Gucci stuff because I like it, and it's nice clothing. And I really do like nice clothing."
"If people are nice to me in the media, I may give them a leather jacket," he adds. "I've got a lot of them. Like 80."
Buzz: huge fan, both of you and of very expensive leather. Please get in touch for my mailing address.