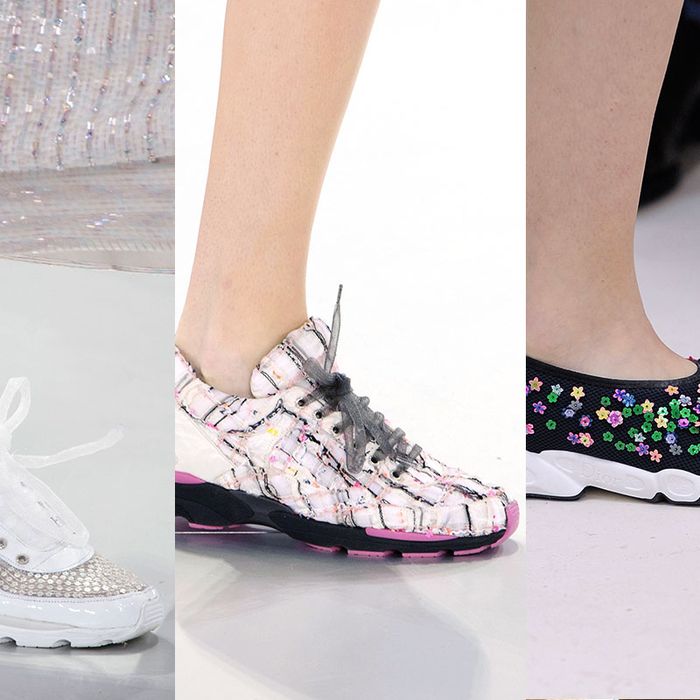 This week on the haute couture runways in Paris, Dior and Chanel introduced something no couture runway has ever seen: sneakers. At Dior, they came in the form of bedazzled slip-on pool shoes, a glorified relative of Nike's $59 water shoe. At Chanel, trainers were far more elaborate concoctions of python skin veiled with lace, tweed, and pearls. Each apparently took 30 hours to make. By the end of the week, the confining, awkwardly high heels (the kind that lead to wobbling spills) seemed like old news. It was, perhaps, the season that couture got comfortable.
"In one way, it's following luxury ready-to-wear footwear because everyone's been seeing these wonderful expensive Lanvin and Hermès [sneakers] that it's become such a big thing over the past few years; high-fashion sneakers are obviously in," Valerie Steele, director of the Museum at F.I.T. told the Cut. "In another sense, of course, Lagerfeld and Raf [Simons] are making a statement on how couture is not old and fusty. [They're saying,] 'Couture is young and hip.' The kind of cute girls who run around town with bare legs and sneakers are the kind of people who could wear couture."
Couture collections are slowly becoming an endangered species in the fashion world, and only time will tell whether a beaded pool shoe — and an appeal to younger consumers — will be able to change that. The sneakers this week certainly touched a nerve, but it's unclear whether they will help houses achieve their ultimate goals: to attract younger clients with spending power. Because, ultimately, as Steele put it:  "The danger in couture is it's always going to look old … it looks like old fashion old women would wear. Besides the stereotype little old lady with tennis sneakers, sneakers are what young people wear." The irony, of course, is that the Chanel sneakers will only be available to people who can afford to buy the entire couture look (though a cheaper version that presumably doesn't take 30 hours to make will be available through ready-to-wear). Let's see how many young people can buy them now.