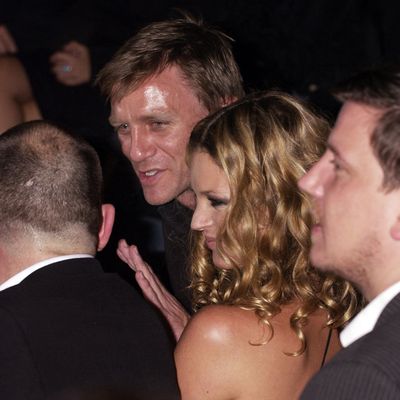 Photo: Dave M. Benett/WireImage
In more news of the News of the World phone-hacking trail, a reporter for the Sunday Mirror allegedly heard a voice mail from Daniel Craig for Kate Moss. In this voice mail, Daniel Craig is just calling Kate Moss, just calling her to tell her that he loves her. This reporter recounted to the court exactly what he heard, in the words of Daniel Craig:
I love you, I love you, I love you.
Not once did Daniel Craig tells you he loves you. Not twice. But thrice. And the doves sang and the bells rang and the sun shone, though their 2004 relationship was never actually confirmed.
Just a few days ago, it was reported that Sienna Miller left Craig a voice mail in 2005 to a similar effect, though she did not see the need to repeat herself, as she was "at the Groucho with Jude." The reporter says he also heard a "threatening" voice mail for Craig from Jude Law, after he learned that Miller and Craig were having an affair, in which Law supposedly said, "Worry about your own girlfriend, pal." Law has denied this.
Ah, the mid-aughts, when all the British pretty people were just leaving each other incriminating voice-mails. What an age, those mid-aughts, what an era!