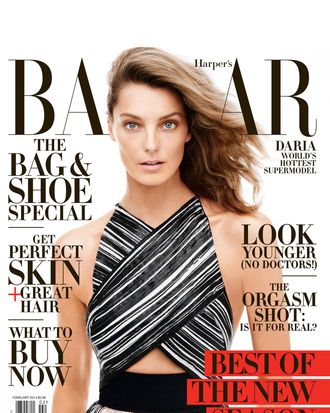 Photo: Daniel Jackson for Harper's BAZAAR
In the February issue of Harper's Bazaar, Daria Werbowy talks about talks about her fitness routine (Ashtanga yoga!), turning 30 ("I was so relieved"), and why she disappeared from the modeling world for a while:
"I took a risk a couple of years ago where I decided to do the minimal amount that I could get away with, because I physically and mentally couldn't handle it anymore. And it's like, you have everything you want, what you dreamt of is coming true, you can't buy anything else to make you happy, so then you think, Well, what else is there? And you have to leave."
In many ways, Werbowy's comments are refreshingly honest. She didn't take a break to spend more time with her family, or to work on her acting career, or to save turtles in Tanzania, or any other reasons celebrities give for taking a hiatus. She decided not to work anymore because she was super tired and couldn't think of anything else she wanted to buy. Boom!
She also talks about her move to Ireland with her boyfriend, which she says was totally random and unexpected, just like love, but also was probably because of Sinéad O'Connor: "I love Sinéad O'Connor. She's part of the reason I went to Ireland, I think, subconsciously. I love the letter she wrote to Miley Cyrus. It was brilliant."
She jokes about doing what so many actresses have done before her: actually pursing an acting career "'Hello, HBO, I really want to be on Game of Thrones,' she says intently into the recorder. 'I could be a warrior; I'll do anything.'" (She does have the hair for it!) But for now, Werbowy is returning to modeling: "I work for a chunk of time, I do everything back-to-back, and then I'm completely off," she says. Obviously she wants to buy herself some of those Fendi furballs.