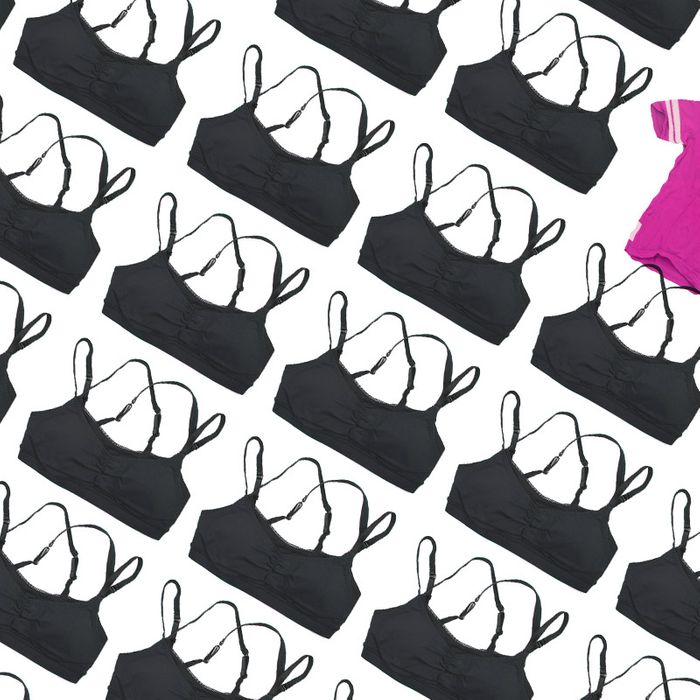 Here is a rundown of items I wear to the gym in a given week:
• A formerly nice grey top stained with coffee
• A pair of thick black leggings purchased under desperate circumstances at a store for tweens; if I sit, crouch, or walk even briefly, all the excess fabric pools at the knees
• An Aerosmith T-shirt from when I dressed as Garth from Wanye's World for a costume party
• Old field hockey shorts
• Mismatched socks with permanent grass stains
• A splendid assortment of white T-shirts and tank tops barred from the regular wardrobe rotation because of horrid, yellow deodorant stains in the pits
These clothes look disgusting. I am consistently the messiest person in my gym, where cute gym clothes reign supreme. On every treadmill, there is a designer legging or a strappy, color-blocked spandex shirt. Along with the ubiquitous Lululemon hair-flip/uterus-diagram logo, it's all Sweaty Betty, C&C, and Athleta. What happened to cutoff tank tops? Where have all the tie-dyed Hanes tees gone? Whither the sweatshirt?
Here are my requirements for gym clothes: clean, comfortable, and suited for the activity. Your requirements are probably similar. It is unlikely you need fancy gear to use a treadmill. Windbreakers that wick sweat, neoprene layers, and aerodynamic running pants are irrelevant. Besides, most of today's trendy gym clothes sell themselves on aesthetics rather than performance. The workout clothes of today are cute jerseys, push-up sports bras, and patterned leggings.
As in any situation where branded or fashionable items are present, one-upsmanship comes into play. But what makes the gym different from an office or a bar is that your primary activity there involves turning your fashionable branded items into mops of perspiration.
No matter your choice of gym routine, the thing you're most likely to be doing is sweating. It's also probable that you produce some phlegm. I use my sleeves or the midsection of my shirt to wipe my forehead or my nose. Wait, what? Boogies on your clothes — that's truly revolting! It certainly is, but that's what happens when you heave yourself about on a stationary bike as someone interjects inspirational baloney at you. You're there to breathe hard and get fit, and these things take priority over protecting your garments from nastiness.
Aside from the weirdness of wearing cute clothes only to drench them in phlegm and sweat and whatever, the very notion of going out to buy workoutwear is perplexing. Your closet will just hand  you exercise clothes! When a shirt is over-washed or over-worn, stretched out or stained, while you've lost an item from your wardrobe, you have gained gym clothes. Of course you can't rely exclusively on old clothes for your gym gear; retired jeans do not fade into running pants. But for the most part, it's a steady pipeline.
To be fair, I have heard friends say that choice new workout clothes give them motivation to go to the gym to show them off. Motivations to go to the gym are worth their weight in rubies, so I won't argue with that. But once at the gym with your hot new gear, wouldn't it be great not to worry about sweat stains on your $96 tank top? Another argument for wearing the cutest workout clothes involves a mission to entice someone at the gym. But who is to say this gym cutie would be opposed to a faded high-school basketball jersey? Think of it as a conversation piece. There's a lot more to say about the 2004 JV Wildcats than about a moisture-wicking racer-back tank.
What's more, the company that is perhaps that most influential leader of the adorbs workout clothes phenomenon also created pants that were sheer in the booty area. Donning your ratty sweatpants is a much safer option.