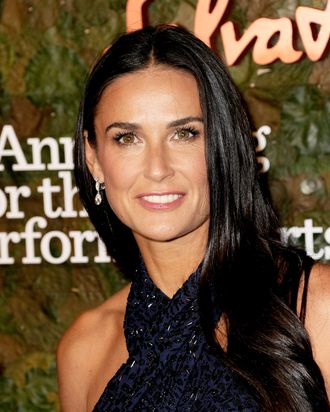 Photo: Kevin Winter/Getty Images
There's no phrase quite like tech-savvy for indicating that someone is describing a person younger than herself, about whom she can't think of anything else nice to say. Thus did the New York Post describe Demi Moore's new boyfriend, christening him with one of his first-ever tabloid adjectives.
In addition to being a fan of the newfangled (he has a Twitter account and a Vine account, both of which he uses), this young sprout also boosts a rad, cool, chill, young person's name: Sean Friday. It's the sort that would belong to the crush in a Disney Channel Original Movie.
So how does Mr. Friday fill his days in this 27th year of his life, in addition to using the Internet and some of its features? Well, he and his winged-astronaut tattoo are canoodling in Mexico with his new girlfriend, Demi Moore. He drums the drums for an L.A. rock band called Dead Sara and aids the electronic musician/D.J. Skrillex. So, so young, this man.