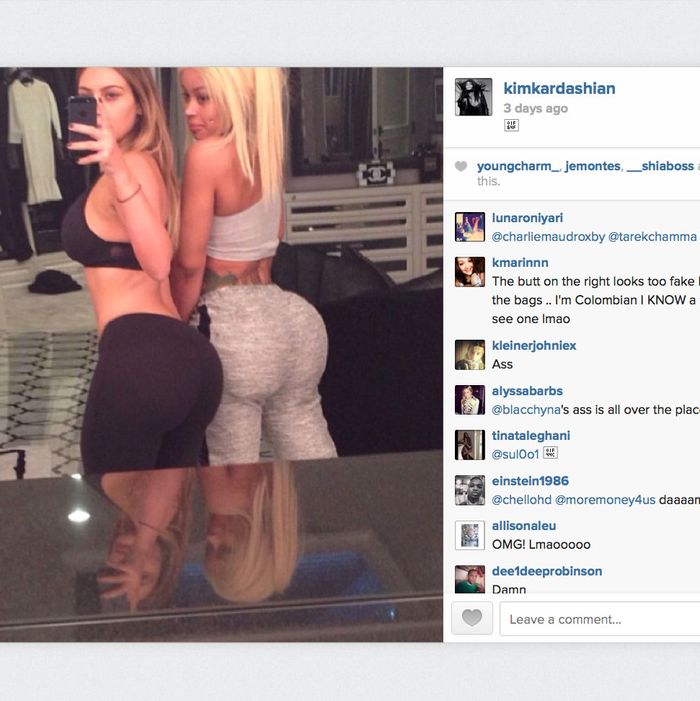 Photo: kimkardashian/Instagram.com
This weekend, Kim Kardashian took it upon herself to strip into spandex, grab a friend, and "get right for the New Year" — which obviously meant a neck-down frontal selfie followed by a more bounteous belfie (butt selfie). Now, an expert claims to have evidence that Kim Photoshopped both shots. Come, join us in wild speculation.
Kathleen Hou, beauty editor: Emily! A Photoshop expert claims this Kardashian belfie is Photoshopped because the curve along the wall is funky.
Emily Shornick, photo editor: It looks to me like whatever is hanging on the door is overlapping it, but like, why would you Photoshop that part?
Kathleen: Supposedly to make her waist look smaller?
Emily: No the floors would be curved, and the tile lines are straight … although in the first one, they do look a little wonky. That curve could be enhancing her boobs.
Isabel Wilkinson, senior editor: Who is the girl on the right?
Kathleen: That's Blac Chyna. Her much-talked about measurements are: 32D-26-41.
Isabel: Nothing scares me like a cheek piercing.
Emily: Actually, you know what? It does look enhanced, because if you look at the door in the first one, the handle part curves in (which makes the boobs bigger), and in the other one, the handle curves in the other direction, making the waist smaller. Both doors are curved, but NOT in the same way. Although another possibility is that the mirror is shitty.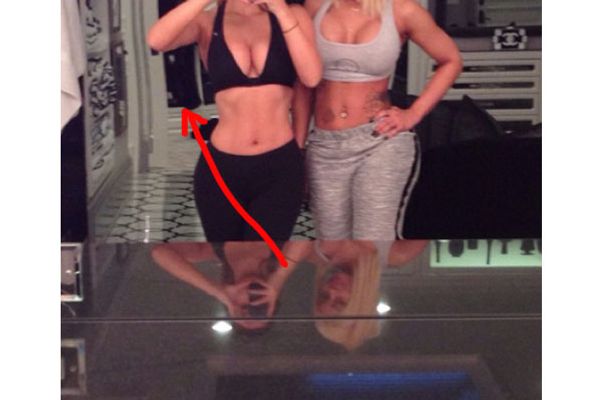 Kathleen: Would Kim Kardashian have a shitty mirror, or Photoshop?
Stella Bugbee, editorial director: I'm guessing everything about that image was Photoshopped! But, I mean … do we even care if it was Photoshopped? Why do we need KK to be "authentic"?
Emily: I think I do care, actually, because she touts herself as authentic. She's not Lady Gaga, who's like, Hi, I'm a manufactured brand with a factory of people who make me.
Kathleen: Photoshopping your Instagram is, like, a new level of vanity. Much more than picking a flattering filter.
Benina Sax, social media editor: But isn't Instagram all about manipulating photos and bragging?
Stella: Kim is all about manufacturing "reality."
Sally Holmes, associate editor: Which is why we like her. We don't care that this is Photoshopped because her life is one big Photoshop job.
Stella: She is a Kartoon.