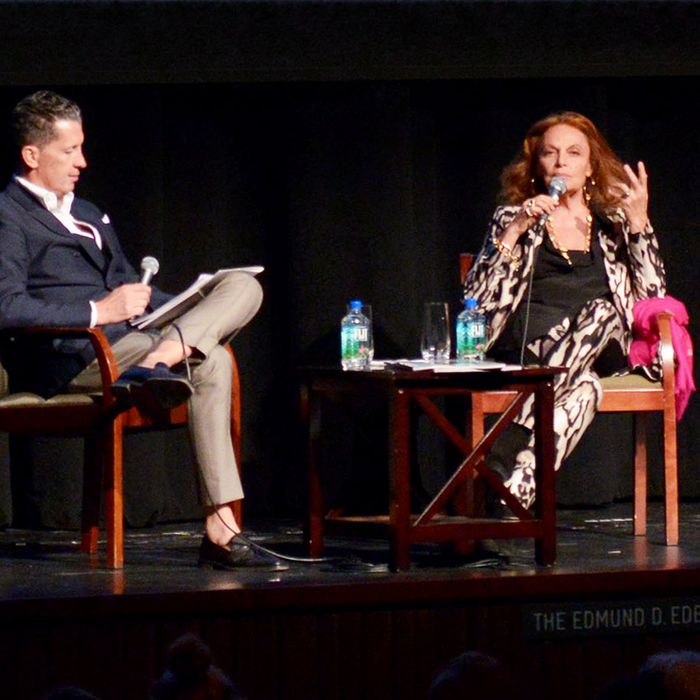 Photo: Christina Edwards/Patrick McMullan
LOS ANGELES — To properly kick off the North American leg of her globetrotting exhibit, Journey of Dress, currently housed in the former Wilshire May Company Building, Diane Von Furstenberg sat down with W editor-in-chief Stefano Tonchi at LACMA on Monday evening for a memorable dip into the timeless wrap's 40-year-old history.
The print-happy exhibit, which will be on view here until April 1, is brimming with all things related to the wrap dress and its creator. The entrance leads directly to a bubblegum-pink hallway filled with a timeline of photos, ads, magazine covers, and more – beginning with a glowing letter from Vogue's then-editor Diana Vreeland to Von Furstenberg in 1970 (choice words included "absolutely smashing"), and ending with the present, with a movie still of Amy Adams seductively clad in a bold, body-hugging wrap dress in David O. Russell's American Hustle. Photographs of famous faces wearing the wrap, from Madonna to Amy Winehouse to Michelle Obama, are sprinkled throughout. The exhibit also includes a room dedicated solely to artwork, filled with portraits and paintings of the designer by Andy Warhol, Barbara Kruger, Chuck Close, Helmut Newton, Francesco Clemente, Annie Leibovitz, and more. But the main attraction comes to full view at the end of the timeline, in a vast room with its walls covered in an array of mirrors and splashes of DVF's iconic prints, where a stunning "terracotta army" of 200 custom-made mannequins (which Diane specifically requested to possess "strong cheekbones and a strong nose" in her likeness) stands clothed and meticulously assembled in wrap dresses culled from DVF's personal archives, mixed in with more contemporary and limited-edition anniversary wraps.
During the conversation, Tonchi and Von Furstenberg breezily chatted about the exhibition, the wrap dress as a symbol of female empowerment, Von Furstenberg's portrait sessions with Andy Warhol, and much more. And in true fashion, the designer doled out nuggets of wisdom on confidence and bestowed the audience with a killer Diana Vreeland impersonation. Click through the slideshow for photos from the conversation and exhibit, and read on below for some choice DVF quotes from the evening.
On the wrap dress's fitting name:
In French, the wrap dress is called robe portefeuille, and portefeuille also means wallet. So actually, it's a "dress-wallet" – and in my case, it certainly filled my wallet. It paid for my apartment on Fifth Avenue, it paid for my house in the country, it paid for my children, it paid for my cars, it paid for everything, actually. And it allowed me to live an American dream as a young, European princess.
On the woman she always wanted to become:
When I was a little girl, I did not really know what I wanted to do, but I knew the kind of woman I wanted to be. I wanted to be glamorous, to be able to be independent, to pay for my bills – to have a man's life in a woman's body. It turned out that I became that woman thanks to the dress.
On taking the wrap dress for granted and learning to honor it:
[The dress] became so much a part of me, but because of that, in a weird way, I always took the dress for granted. I was happy, but sometimes I even resented it. Whenever someone said my name, there was always the wrap dress, and I thought, "My God! I do other things, too!" But now, this year, once I decided that I was going to honor her – because I call [the dress] her – all of a sudden I became in awe of 'her.' I must say, and I've never said this before, that I was really proud.
 On her friendship and portrait sessions with Andy Warhol:
Andy was always with Fred Hughes, and Fred Hughes would always get you to buy a portrait. That's how they made money. It was late in my apartment and we had talked about getting a portrait done, and Andy said, "Oh, gee! I can do it right now. But I need a white wall." But there is no white wall in my apartment because everything is printed. So we find a tiny little white wall in the kitchen, but it was so tiny that I put my [arm over my head].
And then, of course, it took me a year and a half before I dared looking at it. I think I bought one. It was $25,000, and then $5,000 for any one after that. I think I bought three. That was it. I liked them very much. Usually you don't like your photographs until ten years later, but that one I liked immediately. Then in 1982, he was doing an exhibition called Beauties, and he asked a lot of people to pose for that. Because he asked me to do it, he gave me one. And he made five. But I didn't like it, so I didn't buy any. And then when he died, I bought everything.
On her "sexy grandmother" portrait by Francesco Clemente:
Francesco Clemente painted me. He always wanted to paint me, and every time, we canceled each other. And then one day, I was supposed to be a grandmother. My daughter-in-law was going to be in labor in the afternoon, so I said, "This is the perfect time to be painted." Of course, if it was my daughter, I could not be painted. But it was my daughter-in-law — so I wanted to be very sexy while I was becoming a grandmother.
On learning to be comfortable and confident with herself and her looks:
You have no choice! I did not like the way I looked at all. I was born in Belgium, and in Belgium everyone has blonde, stringy hair, and I had curly, brown hair. I looked like an alien. I looked like nobody. I didn't like the way I looked at all, which may be the reason I looked at myself in the mirror a lot. But I also looked at myself in the mirror because I actually realized that I had control over that little thing in the mirror. So early on, thanks to the mirror, I decided that I had to become my best friend. And I became my best friend, and that has become the best thing I ever did because I've been carrying myself for a long time.
You're not born comfortable, but to be uncomfortable is so not practical, and not attractive. You may as well be comfortable and accept you. You have to accept who you are. And it's not always great. I mean, sometimes I feel terrible and look horrible and then I have to take pictures. But then I just go for it, and then it's okay. You just go for it. And that's it! Life is very short. Insecurity is a waste of time.
On showing Diana Vreeland the wrap dress:
I started with a little dress who most people thought was nothing until I met Diana Vreeland, who was great. I have her on tape saying, "It's not just that she came with an idea. It wasn't just a little dress, it was an idea. It was all packaged." And it wasn't true at all, it was just a little dress. But she saw how unique it was. But if I think today, at 23, how I went to visit her and I showed her all these dresses rolled into a suitcase, it's crazy that I had the nerve.
On her mother's influence on her life:
My mother, when she was 20, she was living in Belgium, and it was the war, and she was arrested, and she went to Germany in a concentration camp. She spent thirteen months in Auschwitz, and then she went to Ravensbrück, and then another. When she came back home, she weighed 49 pounds, which is less than her bones. She wasn't supposed to have survived. But she did survive.
My father, who had spent the war in Switzerland, came back and they got married, and the doctor said, "It's okay, you can get married, but you can't have a child. She won't make it, she can't handle it, and the child won't be well." But I was there nine months later. My birth was a miracle, though I didn't realize it [until] much, much later. I realized that that is the flag as I carry. When I was grown up, every birthday my mother would write to me, "God saved me so I could give you life. And by giving you life, you brought me back to life." That's a heavy thing and it made me know that I could never complain. My mother taught me fear is not an option. My mother gave me strength.
On her father's influence on her life:
My father gave me love. He loved me unconditionally. I could do no wrong. I was the most beautiful person in the world. He loved me so much that I kept pushing him away. I wasn't always nice to him. But he determined the relationship I have with men – which means, I'm not very nice to men. [Laughs.] I mean, I was just never really needy.
On the masculine equivalent of the wrap dress:
A turtleneck and jeans. I like men in turtlenecks. I really don't know. I could never do a [men's line], I think. But there's something about a man in a wrap dress that could be interesting.