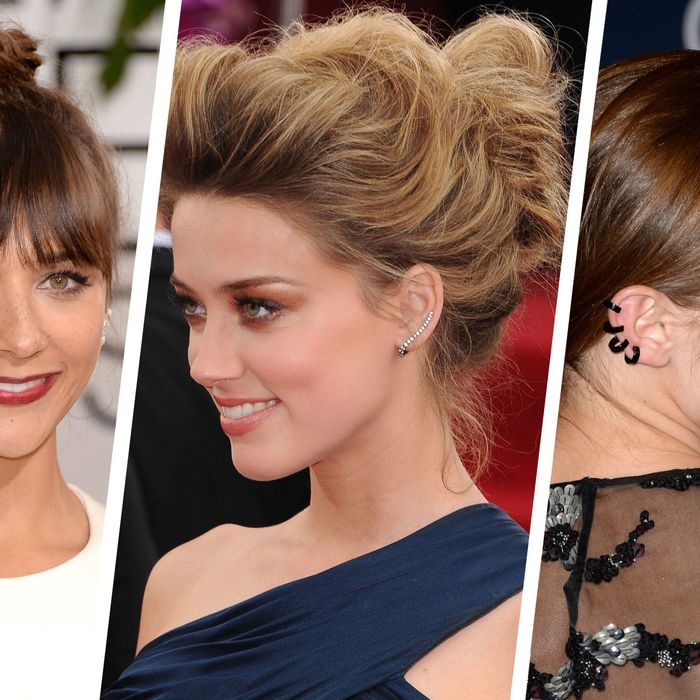 Photo: Jason Merritt/Getty Images
The Golden Globes red carpet was full of interesting fashion, such as dresses over pants, shirts under dresses, and just dresses. But one trend that emerged from last night's spectacle had nothing to do with odd layering: ladies in ear cuffs.
Rashida Jones chose Ana Khouri Patricia pearl ear cuffs that hung off the sides of her earlobes like expensive, globular icicles. The stacked pearls gave her an edgy look instead of the pretty effect you'd expect from the signature prepster pearls. Amber Heard, meanwhile, wore Graziela Gems diamond cuffs that had a futuristic feel to them, like a blingy Star Trek accessory or a Bluetooth device, that nevertheless added the perfect amount of sparkle to her navy Versace look. Orphan Black's Tatiana Maslany went for a different kind of ear cuff altogether: a Jacob & Co. over-the-top contraption that looped into her ear from behind, giving her a surprise dangly effect that matched her dress.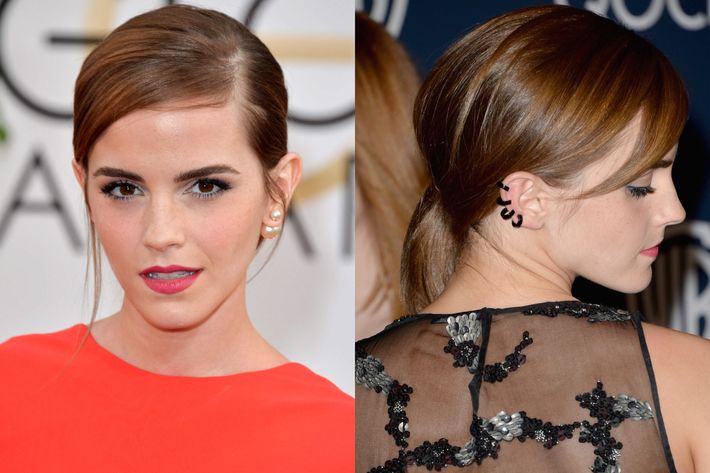 Emma Watson also went with different lobe-wear last night: To go with her full Christian Dior ensemble, Watson wore the brand's single Mise en Dior earring. The popular — and Jennifer Lawrence-approved — double-pearl stud, worn only on her left ear, finished her unexpected pants-dress look perfectly. For the InStyle/Warner Brothers after-party, Watson made a complete wardrobe and cuff change, swapping her Dior for a black Theory dress and Gaia Repossi ear piece. She's either really bought into the one-sided earring trend, or felt like she needed to even things out by giving her other ear some lopsided attention.