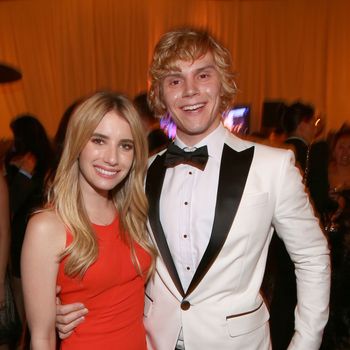 Photo: Christopher Polk/Getty Images
American Horror Story: Coven co-stars and tumultuous lovers Emma Roberts and Evan Peters are engaged, sources have told Us Weekly. But before launching into the details of the engagement ring (pink, gold diamond), we need to revisit that other incident, when Roberts was arrested (and released) after the pair had a bloody fight.
In July, you might recall, Roberts was arrested after an incident at the pair's Montreal hotel room. Peters, who had sustained injuries, refused to press charges; the two soon reconciled.

Of course, we can't know what goes on with a couple behind closed doors — maybe they got counseling and everything is great. If this headline said "Rihanna and Chris Brown Get Engaged," though, you can bet every blog from here to the ends of the Internet would be in an outrage. As for Roberts and Peters: "They're a couple young kids. Their romance is pretty extreme. They just behave in a way that's very passionate," a source tells Us Weekly.
But assault is assault, no?