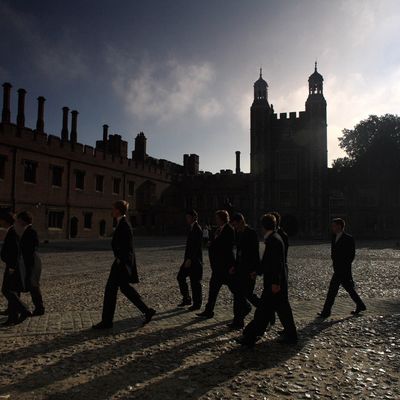 Photo: Christopher Furlong/Getty Images
Eton College — traditional home of crisp fall leaves, Chaucer recitations, school stripes, and boyish tomfoolery — apparently has a serious Snapchat problem. The school, which was founded by King Henry VI in 1440 and educated Prince William, Prince Harry, and David Cameron, found it necessary to ban Snapchat on its Wi-Fi.
Snapchat's self-deleting image and video messages were forbidden over concern that teens were using the application in an inappropriate manner (read: sexts). The school thinks about half its students use Snapchat. Headmaster Tony Little stated:
It [Snapchat] is blocked from the Eton wireless internet system. Boys can still use it via the 3G network but we hope that blocking it on our network will, at least, make them think twice.
Because, as everyone knows, there's nothing like banning something in a high school to rapidly usher it out of the door. Nothing like a schoolwide statement of concern to decrease its badass factor. Particularly when the statement includes helpful information on how to easily circumvent the ban. The best laid plans of mice and men often result in continued monkey business.