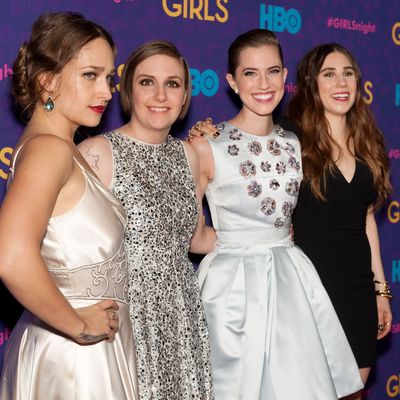 Photo: D Dipasupil/FilmMagic
At the Girls premiere last night in New York City, Lena Dunham, Allison Williams, Zosia Mamet and Judd Apatow discussed a particular trope central to their show. Specifically, the trope of Getting One's Life Together. Yes, these Girls girls are ready to clean up their acts, get their ducks in a row, make their beds then sleep in them, organize their junk drawers, button up their coats, and shovel their driveways. Metaphorically speaking. 
From the mouths of the girls and Girls associate Judd Apatow, as interviewed by The Hollywood Reporter:
Lena "We Have to Get on This" Dunham: "This year they're like, 'We are a quarter of a century old, and we have to get on this.'"
Zosia "The Bottom" Mamet: "I think hitting the bottom is sort of a bit of a catalyst for her to sort of get her shit together."
Judd "Human Stories" Apatow: "I just think in terms of human stories and the types of problems that I encountered and people in their 20s encounter as they try to figure out what their job's going to be and who their spouse is going to be and having it figured out before it's too late … you always feel like there's a ticking clock to get your shit together."
Jenni "Grown-Up Place" Konner, Dunham's co-showrunner: "I just think they're all starting to get a little bit afraid about the real world … they're trying in unique ways for sure but they're all, I think, trying to get to a more grown-up place."
Allison "Fall Fully" Williams: "Marnie actually starts off the season a total mess … she's just sort of falling apart, so to that end, what you root for is for her to fully fall apart and be aware of it and then build herself back up again and be bigger."
Did you catch all those life lessons? Are they relevant for your day-to-day? The cast of Girls sincerely hopes so.