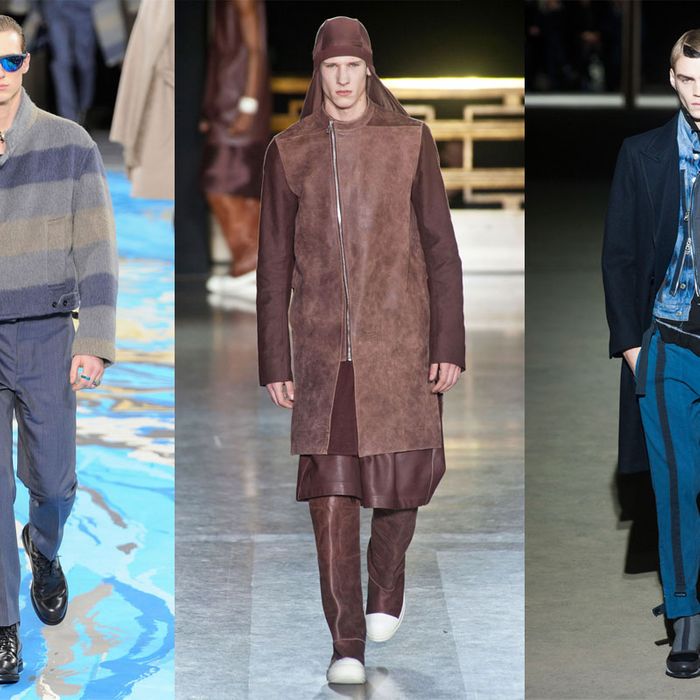 PARIS — Moody is the adjective Rick Owens used to describe his men's fall/winter 2014/2015 collection, and I like to imagine the pep talk he gave the models before they exited the backstage area: "Listen up, everyone, Homeland has been cancelled — there won't be another season." I'm not sure if the young male models that walked today are fans of Carrie Mathison (more likely they're into American Horror Story), but that news would definitely have me stomping down the runway with my shoulders hunched, like the models did today.
Of course, Rick's inspiration was a little (okay, a lot) more highbrow than that. He was exploring masculinity and its relationship with authority: "spiritual authority, capitol authority, and uniforms that suggest authority." As such, he created a fierce-looking army clothed in long coats and biker jackets, sleeveless leather tunics, utility vests, boxy jumpsuits, and, oddly enough, a nun's coif or headdress, which he managed to make surprisingly masculine. Romper-stomper leather boots went up to the knee and were super-sized, adding to the air of intimidation. (Side note/trend alert: Last night, Raf Simons also presented oversize boots, though his version was more cartoonish).
Dries Van Noten's neo-rave dandies were also a force to be reckoned with. Their exits were organized in color blocks: pinks and fuchsias; blues of marine and azure; acid yellows; and deep forest greens. An a cappella version of "Sympathy for the Devil" roared over the sound system. In a cleverly conceived mash-up of styles, the boys had the look of sporty sophisticates — Van Noten teamed plush velvet smoking jackets with jeans and sneakers, waistcoats and tails with tie-dye pants, and ruffled tuxedo shirts with denim bombers. Although some of the paneled pants appeared a little too tricky, this is the kind of man's wardrobe I'd definitely like to raid. Especially one of those fur stoles, please.
Louis Vuitton's menswear director Kim Jones imagined a very different man for fall/winter 2014/2015: a suited-up, stylish globetrotter sporting some bad-ass nineties shades. The Vuitton man is a luxury-loving, worldly kind of species, and this season, Jones drew his inspiration from the plains of South America. He took a modern, slightly conceptual twist on the eternal travel theme, though, using aerial photographs and NASA images taken from space as the starting point for the patterns and palette. The catwalk was even hand-painted (the level of craftsmanship at LV knows no bounds) to resemble topographic imagery of the Atacoma Desert. The colorful, swirling pattern featured a striking cobalt blue that appeared in the collection. Front-rower Will Smith was wearing a roll-neck in a similar shade, but I can't say for sure if he coordinated on purpose.
With the recent shakeup at Louis Vuitton, it's unclear if Jones's position, which he has held since 2011, was ever in question. Nicolas Ghesquière headed up menswear as well as womenswear at Balenciaga, though it was with the latter that he really made his mark. The polished collection Jones presented today certainly put the British designer in good stead: LVMH's brother/sister power duo Antoine and Delphine Arnault applauded loudly at the end, as did Jones's bestie, Lily Allen, who stood up and literally whooped out loud when he took his bow.