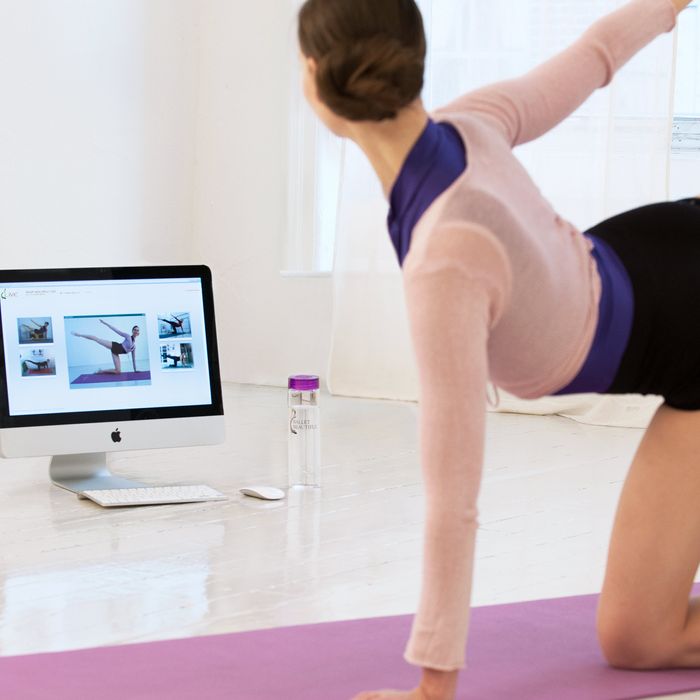 When it comes to motivating yourself to exercise, sometimes you need to take the path of least resistance. The gym is too far, too crowded, too sweaty. The class you wanted to take is full. All your attractive gym clothes are in the wash. New York is going through polar vortex, the sequel, and the idea of takeout looks ever more appealing. That's when the online workout comes into play: Sure, you don't get to see the hard-won, sweaty muscles of your instructor; the floors of your apartment are probably not proofed for rebounding, and the "front-rowers" aren't in your face to both annoy and motivate you to sweat harder. But with an online workout, your "gym" is two steps from your couch and, in many cases, much cheaper than a "live" membership. Sometimes it's even 100 percent cheaper, and free on YouTube. We rounded up the seven best online workouts from YouTube, from yoga to Pilates to the "Jane Fonda" of Korea. Click through the slideshow for our picks.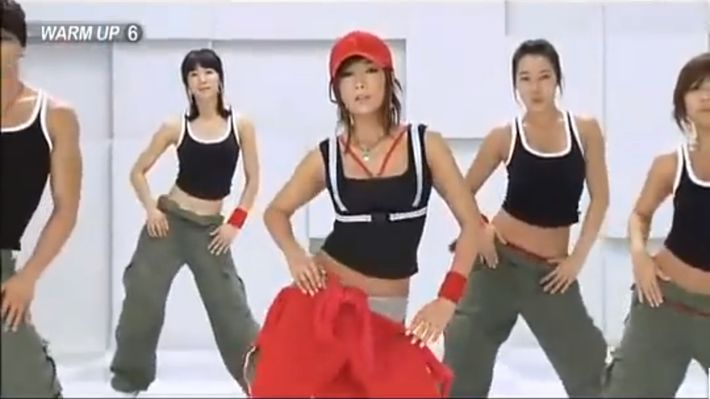 Figurerobics
When I told my mom I was working on this story, she told me I had to include Jung Dayeon, a 45-year-old Korean mom who lost over 100 pounds using a K-Pop-based workout. The so called "Jane Fonda of Korea," Dayeon's fame is extending throughout Asia to Japan and Taiwan. Yes, the workouts are in Korean, but they are easily cued, the movements clear, and by the end, you learn the Korean words for Let's go! and Again! When I first did a mat-based workout, I thought it was terribly slow. Why isn't Dayeon immediately asking me to replicate the choreography of one of the members of Girls' Generation? And then, ten minutes through, I realized that keeping the steady pace as you do small, targeted, painful moves is the challenge. Dayeon has many workouts, such as a fun, translated title called, "Jung Dayeon: Her body sculpting Breast, beauty abdomen, buttock Dance," which must be the next logical progession after learning to thigh dance. Cost: Free on YouTube, but Dayeon is not building a fitness empire based on free content alone. She sells many exercise DVDs.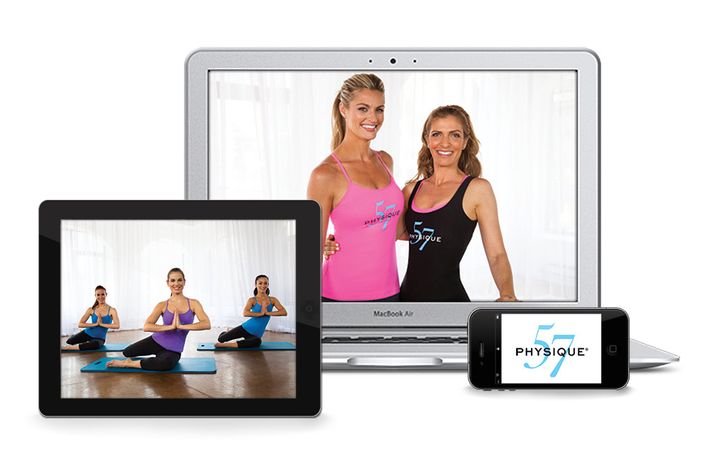 Physique 57
Physique 57 is best known for teaching us how to work out a thut and, in the words of Mindy Kaling, providing you with a barre-based workout that makes your thighs tremble like Carrie's chin on Homeland. They specialize in what I call tremble-cise: when your legs/various body parts tremble so much as you do a move, you lose all feeling and aren't even sure if you are moving or standing still or exercising. I've come to realize that this muscle confusion and exhaustion is a good thing (at least, that's what I tell my sore body parts the next morning). Their (roughly) 30-minute online workouts make you tremble-cise just as much and are very easy to follow with themes such as Cardio Sculpt and Strong and Lean. Sometimes you will need small hand weights. New routines are added all the time, and the classes will be hard each time. Cost: Workouts are accessible via Physique 57's online video platform. You can pay per workout ($5-10 per video) or pay for unlimited monthly access ($57).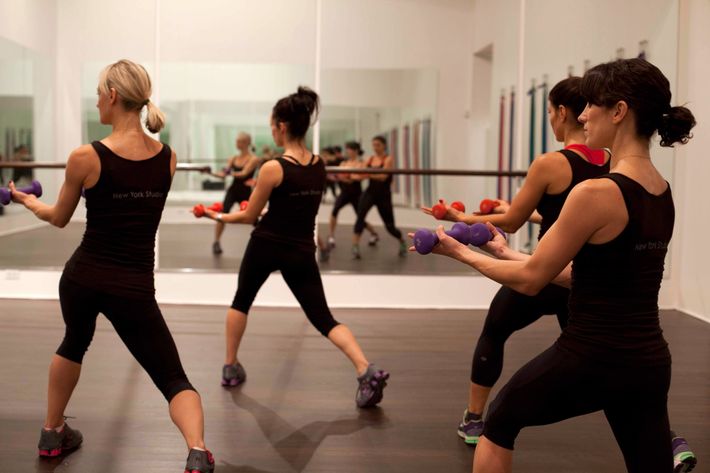 Body by Simone
Simone De La Rue is the trainer responsible for making Sandra Bullock's physique immune to Gravity. Her specialty is sweat-dripping dance cardio and variations on simple moves that target your core areas, set to great music. Despite the dance routines making you feel like you have five feet, her Australian accent make her sound super cheery and encouraging as she inquires about "your sore bits." Even crazy dance instructions sound more doable when shouted with an Aussie accent. Her online Dance Cardio workout requires the space rarely found in New York apartments, unless you want to knock out your cat, your roommate, and your temporary wall. The mat-based workouts fit perfectly in your living room if you move aside the Ikea Hemnes table. Cost: $9.99 per month (a complete bargain, considering an in-person class costs $35).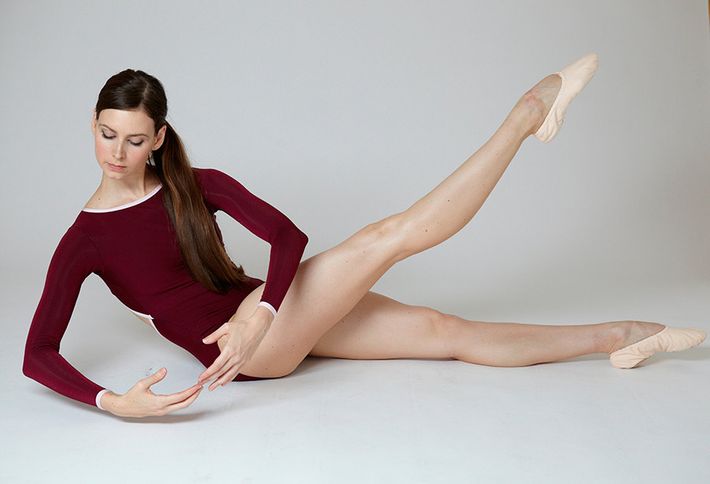 Ballet Beautiful
Mary Helen Bowers was the person that made Natalie Portman into a ballerina for Black Swan. If you've harbored Center Stage fantasies since middle school, this ballet-based workout is for you. This is another tremble-cise form of exercise. You can stream online workouts live as classes are actually occurring, or you can stream videos on your own time. Two new online workouts are added a month. Bowers stars in most of the online videos herself, giving you the feeling of being taught in a private lesson by the instructor. Despite sweet, adorably named workouts like the Sugarplum and Skyline Collection or Swan Arms, these workouts are more Black Swan than White Swan. You might feel the impulse to buy leg warmers after class. Cost: A monthly membership gives you access to attend or live-stream classes ($280). Online-only is $39.99 per month.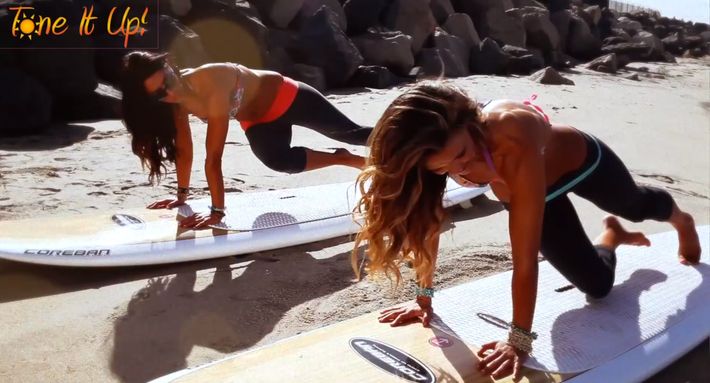 Tone It Up
If Taylor Swift was a YouTube fitness sensation, she might be Karena and Katrina, the founders of Tone It Up. They have a Bravo reality show, really good beachy waves, a propensity for hand-hearts, and re-dub workout moves with cutesy names like Koala Curls, Hug Your Mate, and Kangaroo Jacks. Their YouTube channel has over 300,000 subscribers. Their smiles and good hair make you feel like you are working out with that friend who is always trying to make working out fun.   Cost: Free YouTube videos are still available on their channel, and their site also sells exercise DVDs.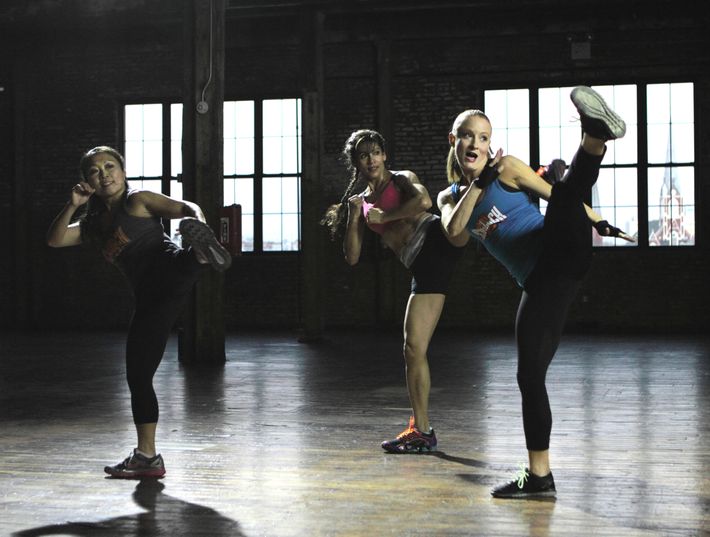 Crunch
Crunch takes some of its most popular workout classes and streams them online.Their library contains a lot of fun classes, like Broadway Dance (yes, they play Broadway show tunes during class) and Gospel House Aerobics, which, despite the name, is actually set to house music, not the Brooklyn Tabernacle Choir. If you've always been slightly embarrassed to take live classes such as Stilletto Strength, now you can do it at home without judgment (Spoiler: Only half the class is in stilettos). There's even a class called Virgin Yoga (because you never forget your first time). The site is relatively new, but new content will be continually added. Their dance cardio workouts are nicely paced for beginners, and not as frenetic as Body by Simone.   Cost: $9.99 a month.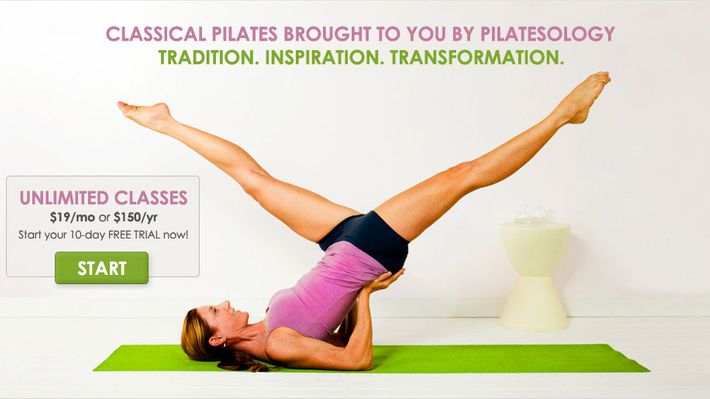 Pilatesology
Pilatesology is a workout encyclopedia of every Pilates move you could possibly envision doing. I think of Pilates as a combination of yoga and barre. It's challenging and you feel it, but you generally aren't dripping in sweat after a class. Pilatesology has streaming classes taught by instructors like Mari Winsor (who teaches Miley Cyrus) and classes for beginners all the way through to expert. The majority of movements are Pilates-based, so space isn't really an issue. There's even a helpful Self-Assessment Test for you to take to gauge your level.   Cost: $19 a month month or $150 a year, with a free ten-day trial.