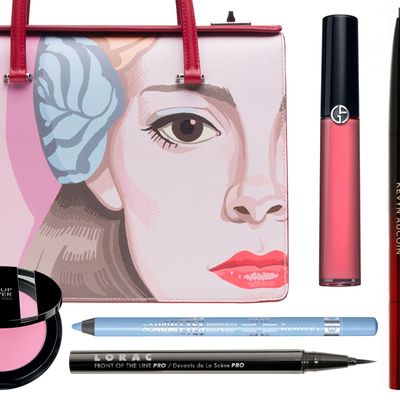 Prada's spring 2014 collection is a celebration of feminism, art, and girl gangs who wear sporty leg warmers and carry prim bags. One ladylike bag in particular caught the Cut's eye during a recent market appointment. Featuring artwork by illustrator Jeanne Detallante, this Printed Saffiano Leather Handbag ($3,950) is, in the words of the program notes, just one interpretation of the "guises that women assume in the course of a day, a lifetime." Struck by this portrait of strong femininity (with the slightest hint of a sky-blue eyeliner), the Cut sought to re-create the beauty look. Here's how to look like you're a member of a Prada girl-gang:
1. Strong femininity begins with an architectural strong brow. Kevyn Aucoin 'The Precision' Eye Pencil, $26.
2. Draw on a strong liner, anchored by volume-enhancing mascara. Chanel Inimitable Intense, $30, and Lorac Front of the Line Pro Eyeliner, $23.
3. Smudge a white-blue eyeliner along upper two-thirds of the lash line for a hint of bold softness. Scandal Eyes Waterproof Kohl Eyeliner, $4.49.
4. Dab a sheer pink blush along the outer contours of the cheek to enhance the blue of the eye. Make Up for Ever Sculpting Blush in Satin Pink, $25.
5. Use a pinky-coral gloss with a touch of shine. Giorgio Armani 'Flash' Lip Lacquer in 519, $29.