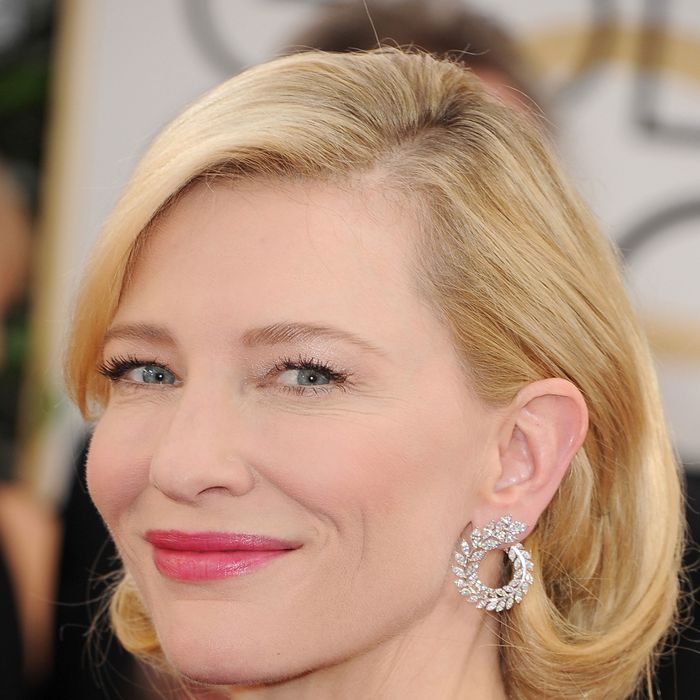 Photo: Steve Granitz/Getty Images
Long before the Golden Globes telecast ended, Cate Blanchett had already been anointed one of the night's best-dressed women. But about eight hours before the rest of us saw her on TV, Blanchett was getting her hair done by hairstylist Robert Vetica of the SLS salon. Vetica and Blanchett have worked together for years, and he told the Cut all about Blanchett's foldover updo (inspired by Grace Kelly) and how Blanchett is just the "coolest chick." Click through the slideshow for exclusive behind-the-scenes photos of Blanchett getting ready and his account of yesterday's prep.
Robert Vetica: Today was really great, busy day. We try to always prepare beforehand. I personally carry about a thousand images on my iPad before each and every award show.  When I work with people like Marion Cotillard, Salma Hayek, and Cate, I use them as a reference. Once I realize where we are going, I separate them into piles.
We just keep things calm. [Cate]  is a really cool lady, really smart; she's a mom. She's exactly how you would envision. When you meet someone famous like her, you go, I hope she's a nice person or I hope she likes me. And Cate is everything like you imagined; she's down-to-earth and amazing. The day was easy breezy. We started at noon and she sat down at twelve-thirty. She had her makeup done by Jeanine Lobell, and her nails done. She was dressed by two-thirty.
We knew she was going to wear the Armani Couture. Looking at the photographs from when she was trying it on, I went through my files and wanted to keep it fresh. I understand each person's spirit. I'm not into natural on the red carpet.  I always choose things that are pushing it a little bit or something that's inspirational.
There was this amazing photograph of Grace Kelly in a studio with a heart-shaped neckline, where she is peeking through these curtains. I looked at that and a very modern version of it from an editorial shoot from Vogue Italia and incorporated a mix of both. But it looks really classic.  It's something that spans the test of time. The Golden Globes have a tendency to be more liberal; people are more relaxed. With the Armani dress, since it was so sophisticated and she is so amazing, it really worked.
I think that people don't understand that at the end of the day, these actresses are really women. They're actors, not models. Personally, I think that these actresses see the red carpet as another layer of their job. These actresses, on the red carpet, they let you in just enough — not too much that would ruin the ability for them to portray another person in their next film. For me, with someone like Cate or Marion, it's my job to help them look as beautiful and amazing as they feel. It's about this allure, this spirit of this person. You can touch them, but you aren't inside their spirit.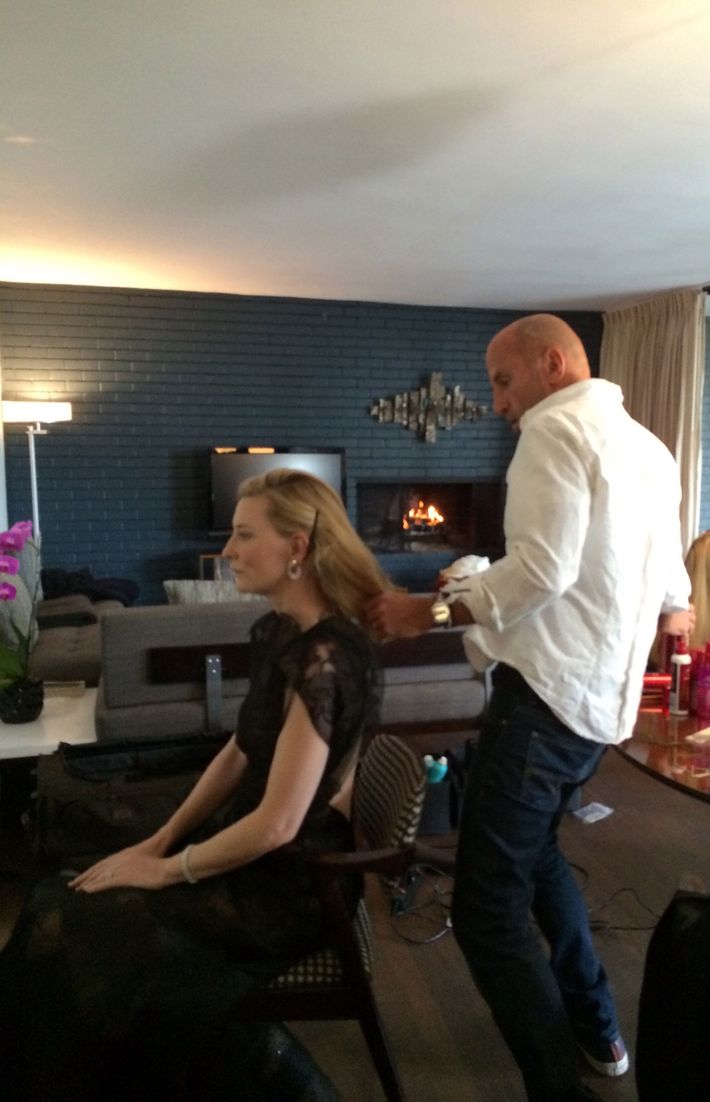 Hairstylist Robert Vetica at work.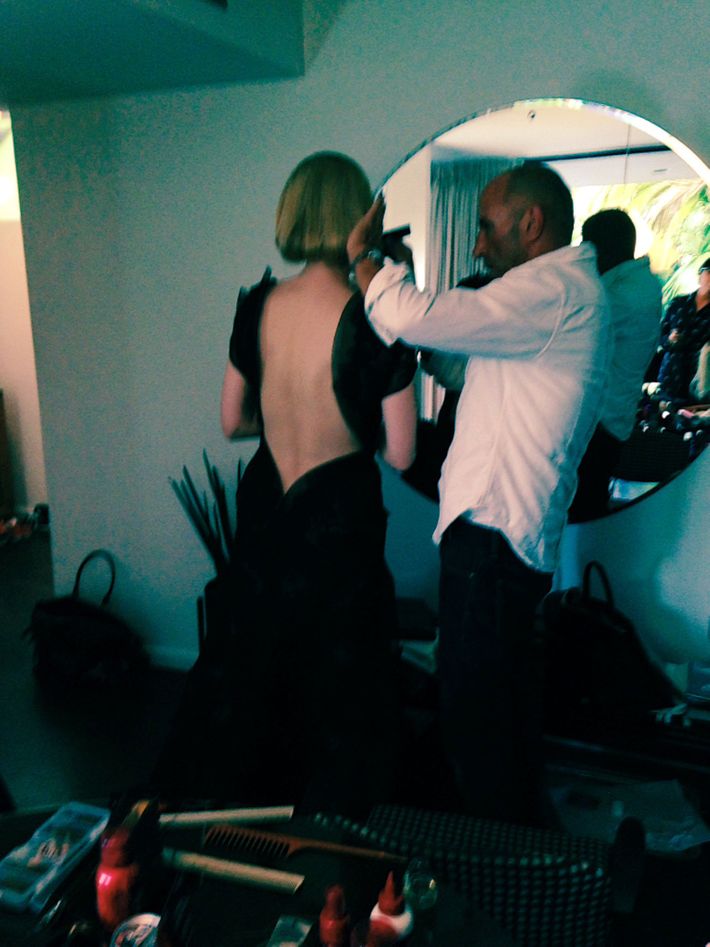 Vetica secures a pin on Cate Blanchett and shows off the back of her Armani Privé gown.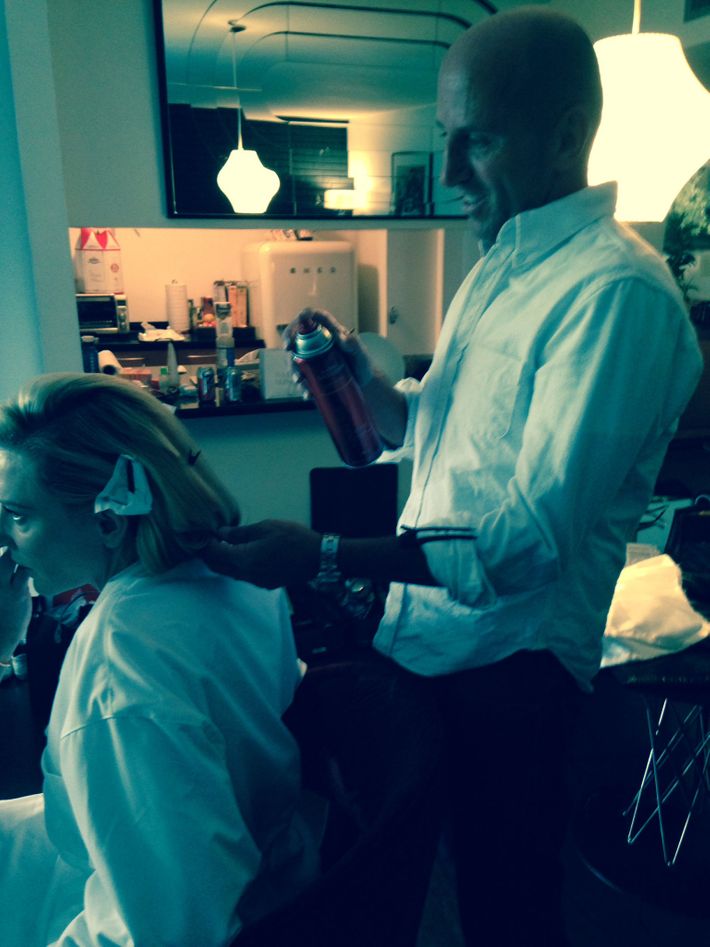 Vetica gives Blanchett's updo a mist of Vidal Sassoon Pro Series Flexible Hold Hairspray.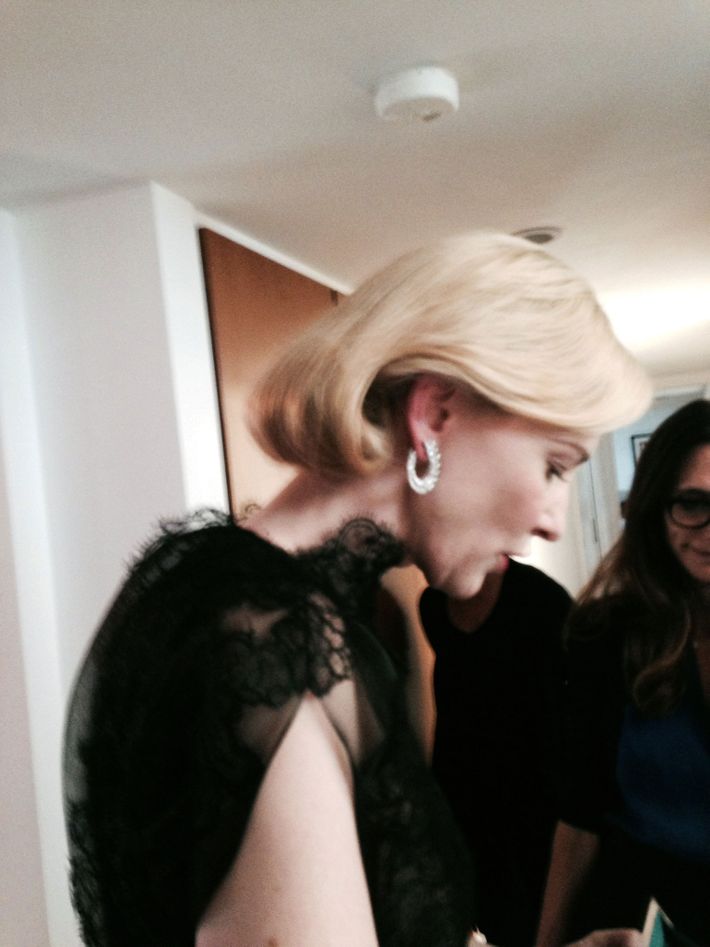 Blanchett in profile, before she is about to head out the door.