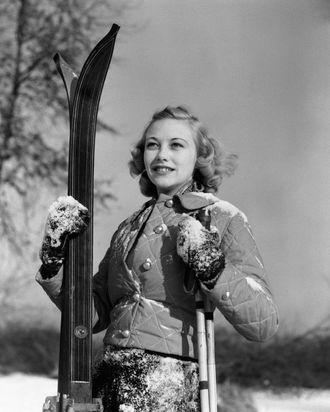 Photo: ClassicStock/Corbis
We are now in the winter of our discontent that, in modern Steinbeck terms, means the season in which polar vortexes, plural, occur — that time of year when you are battling dry air and looking jealously at your office neighbor's dorky-looking but effective humidifier, wondering, Will she share? (No, she will not.) The Cut spoke to several experts (including Gwyneth Paltrow's holistic doctor) for tips on ways to eat, sleep, drink, and beauty-medicate your way through winter. Get your avocado, fish oil, and satin pillowcases ready.
Eat: 
1. Gwyneth Paltrow's holistic doctor, Dr. Frank Lipman, suggests that you cut out gluten, dairy, and sugar — especially during the winter months. These three things are the most common source of digestion problems. Bad digestion often shows itself on the skin in the form of puffiness, water retention, and breakouts.
2. Jenny Sansouci, a health coach at Dr. Lipman's practice, also suggests, "To keep your skin supple and prevent it from drying out, start your breakfast by eating lots of healthy fats." Unfortunately, doughnuts are not a healthy fat. Make like Apple in California and pick some avocados and eat nut products, such as almond butter.
3. As you may have gathered from reading GOOP, green smoothies are a good way to start the day. Add in avocado oil and almond butter for more healthy fat. One classic smoothie recipe that Dr. Lipman suggests contains greens, lemon, ginger, and half an apple (if you really need a bit of sweetness). Always choose a green juice over fruit juices, which are higher in sugar.
4. In some countries, such as in Japan, a typical breakfast includes a fish high in omega fats like salmon. Dr. Lipman recommends this as well, and also suggests eating eggs, which are full of healthy fats and protein as well. If you can't stomach eating salmon first thing in the morning (unless it's in a Benedict), you can also take fish oil as a supplement.
5. For all the ribbing the Cut has done about the Paleo diet and eating blood stew, it turns out there is some connection between Paleo and being beautiful. Speaking about Dr. Lipman's practice, Sansouci tells us, "We are big followers of Paleo!" This is probably because Paleo is gluten-, dairy-, and (largely) sugar-free. So go forth, eat your Paleonola and your bison.
6. In place of dessert, winter squash is a good replacement as a sweet vegetable that still has a lot of fiber.
7. You can eat your way out of sickness. If you feel like you are getting sick, several foods to include are garlic (natural antibiotic), ginger (protection against nausea), tumeric (good for the immune system), and a little bit of black pepper (which amplifies minerals and phytonutrients).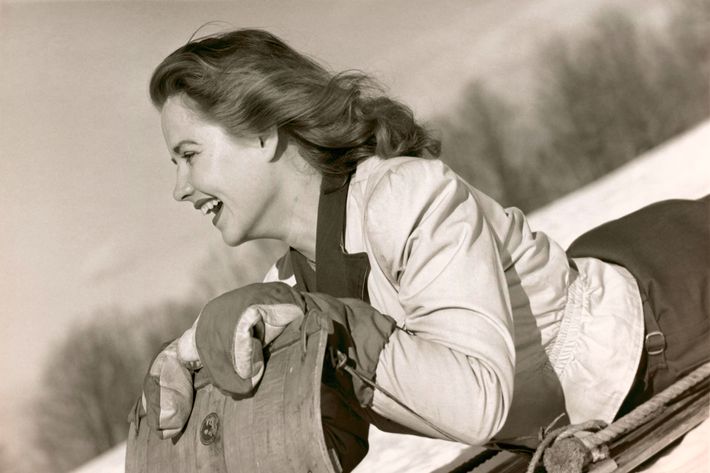 Drink
8. Drink up to three liters of water a day. "Basically, you want your pee to remain fairly clear at all times," Sansouci advises. Drinking water obviously helps with hydration, but sometimes when you are feeling hungry, you are actually thirsty. She suggests drinking some water before you start eating to gauge whether you are hungry or thirsty.
9. As anyone who has ever bought into the promise of a dark-eye-circle-treating eye cream can attest, treating them is difficult work. The area under your eye is hugely affected by hydration. When you are dehydrated or eat too much sugar, dark eye circles appear deeper and darker. Sansouci's nutrition teacher called it "sugarface." Unlike when your grandmother says it, this is not meant as an endearing term.
10. A good general rule if you are a coffee drinker is to drink one cup of water per cup of coffee to maintain hydration.
11. If you want a cleansing drink in the morning (which may or may not be aligned with a moon cycle), you can drink water diluted with a touch of apple cider vinegar, which is good for digesting.
Sleep
12. Kyle White, a celebrity hair colorist who counts Mariah Carey as a client, suggests sleeping like a princess, with a temperature-controlled humidifier in your room.
13. Sleep like a duchess on a satin pillowcase. Nunzio Saviano, a hairstylist and beauty editor favorite on the Upper East Side, says that a satin pillowcase isn't just to appear extra fancy. As magazines have told you all along, it prevents hair breakage, which is more likely to occur in the winter, as winter hair dries out hair and reduces hair elasticity.
Dos and Don'ts
14. Don't stress out about frizz. In winter, your hair is drier anyway, so don't overdo it on your anti-frizz products. Avoid hair products with keratin and excess protein as these can dry out your hair even more.
15. Deep condition at least once a week. Joel Warren, co-founder of Warren-Tricomi Salon and responsible for Tina Fey's hair in the Garnier ads, suggests using a hair mask up to two to three times a week, if your hair is very dry.

16. White suggests using oils to condition your hair. Coconut oil has a denser molecule and works better on textured hair or curly hair. Olive, avocado, and rose oil are lighter and work well to sleep in or as leave-in conditioners.

17. Be careful that your hair doesn't rub against the fibers on the back of your coat, which can cause breakage in the cold. If you can, tuck your hair under your coat's collar. Again, being fancy here is helpful to your hair: Silk and cashmere are two fibers that are harmless to hair.
18. When doing a home treatment with an oil, heat it up in the kitchen. The heat and warmth open up your hair's cuticles, which allows them to embrace moisture. Warren suggests dampening the hair, but putting the oil onto the hair directly. Your hair's cuticle is like a sponge, and like a sponge, absorbs the greatest amount of initial moisture when it is slightly dry.

19. If you are a "workout" girl, as White says, don't be reliant on the gym's shampoo and conditioner. Washing your hair with the wrong products strips color, especially when it is drier. "I have my girls tell me, Well, I only used the gym hotel shampoo and conditioner one time. I mean, it's like hot lava. That's like telling me, I only got shot with one bullet one time."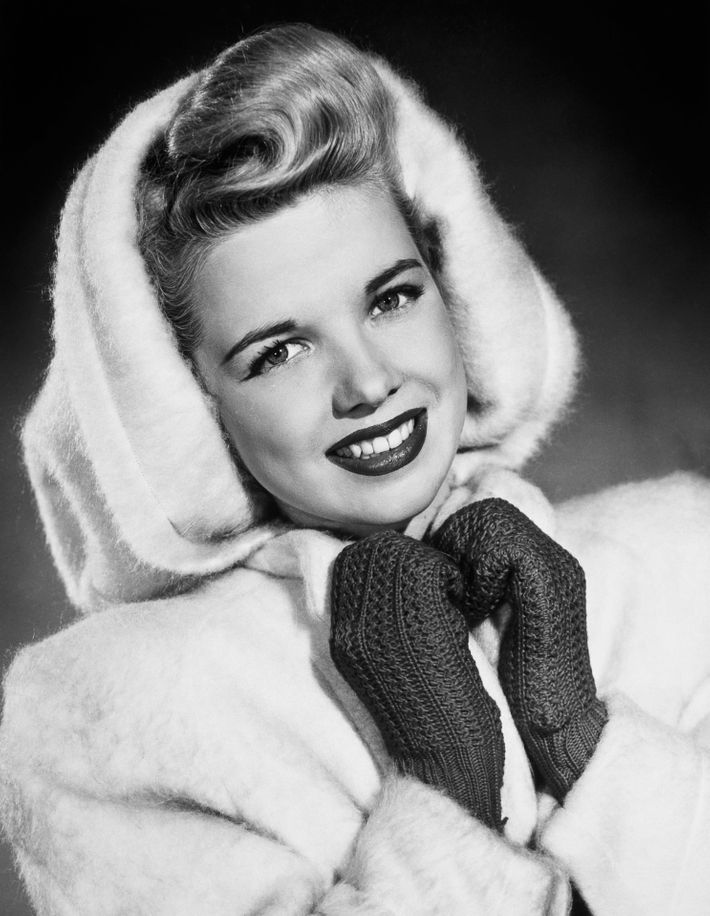 20. If you're working out a lot, don't give your hair a full wash between workout days. Rinse your hair, and use a little conditioner on the ends only. Dry your hair and use dry shampoo as needed.
21. Don't treat your hair as if it's one entity. As White explains, "Maybe [the bottom] part of your hair went to St. Barts, and the top part  of your hair was in the Polar Vortex. Of course, you can't treat them the same!"
22. Break open a vitamin E capsule and rub it onto your scalp for extra moisture.
23. If you are suffering from a really dry scalp, White advises using Head & Shoulders to spot-treat your scalp. Do not use it to shampoo your entire head, as the shampoo is too harsh for your hair's cuticles and can strip its color. Massage Head & Shoulders only in the scalp and then rinse out, using an appropriate color-treated shampoo.
24. To gauge how dry your hair is, Saviano suggests looking at a strand of your hair when wet. Snap the ends gently to test the tension. Hair with greater elasticity and moisture has more spring.
25. Don't overuse dry shampoo. To keep your hair healthy, you need to keep your scalp nourished and free of buildup.
26. To remove product buildup, break an aspirin and crumble it into a shampoo bottle.
27. Europeans are big believers in scalp massages, which is something that Saviano insists at his salon. While washing your hair, gently press the pressure points at your temples. You also want to take strands of hair, position your hands about four to five inches from the scalp, and pull gently. Do this two to three times to stimulate your scalp.
28. To make your hair look beachy but not feel like the sand on a beach, use a hair oil prior to spraying a sea salt spray into your hair.
29. Don't use metal brushes during a blowout. Metal brushes are commonly used at blowout bars because they transmit more heat and quicken the blow-drying process. But this amount of heat connection also damages more of your hair's cuticles.
30. Be careful to use the right hair elastics. White frequently has clients that come in with hair breakage midway down the back of their head. Even elastics that are "ouchless" break hair. He suggests using a hair bungee.