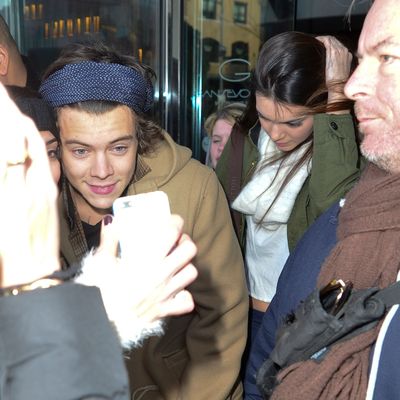 Photo: North Woods / Splash News
The rules of dating a Kardashian are simple. Submit to several weeks of televised humiliation at the hands of matriarch Kris Jenner each year, and suitors shall be rewarded with entry to one of America's most luscious gene pools, as well as untold low-end endorsements and paid appearances. Harry Styles, the designated bad boy of boy band One Direction, is not following the rules.
According to the Daily News, Styles told new love interest Kendall Jenner that "he will not appear on Keeping Up With the Kardashians under any circumstances." Styles reportedly "does not want his love life played out across the world on TV." This, despite the fact that Styles is a fan of the family reality program. "When he travels with One Direction, he makes sure the E! network is available in his hotel room," the Daily News writes. Creepy and hypocritical. Even fame-ambivalent Kanye West sucked it up and taped a few episodes, despite major aesthetic concerns about the program's cinematography.
The ultimatum may be a preemptive strike on Styles's part. If his relationship with Kendall were televised, her undermining brother-in-law Scott Disick would probably point out that the couple's romantic New Year's ski weekend was a recycled date Styles already tried on ex-girlfriend Taylor Swift.