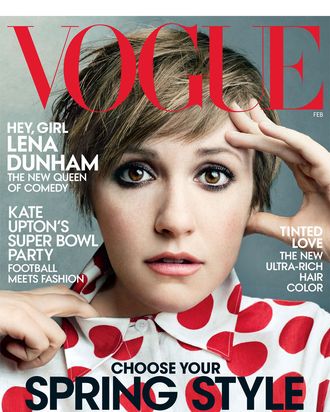 Photo: Annie Leibovitz/Vogue
Lena Dunham's long-awaited Vogue issue has arrived, wrapped up in polka dots and collar-tugging because — as the cover lines remind us — Dunham is here representing comedy, not fashion. Still, the Annie Leibovitz and Tonne Goodman spread manages to elevate the tropes of the comedienne photo shoot (what 30 Rock called "birthing the rubber chicken on the toilet"); Dunham looks more chic than ever despite the presence of a tutu, many feathers, and an actual pigeon, on her head. I appreciate that Girls actor Adam Driver plays the Hannah Horvath part in the photo shoot — sulking naked in a bathtub where Dunham is perched in a slicked-backed bob and a power-LBD — as well as the cameo by Dunham's dog, Lamby, whose anxiety you may have read about in The New Yorker.
By now, Dunham's short biography has been exhaustively covered, both in magazine profiles and Dunham's own New Yorker essays. What's most revelatory about Vogue's addition, by Nathan Heller, (besides a detail about a Hello Kitty microwave) is how subtly he acknowledges that Dunham's work and public persona are a protest of Vogue principles.
"In addition to tracking the fashion world closely, she's become a kind of spokesperson for young women who want to express themselves stylishly but with personal whimsy, and a vocal critic of the stereotype that fashion belongs only to a tiny group of superslender people terrified of breaking rules. For almost as long as Dunham's work has been in the public eye, she's spoken openly and often about her body type, pointing out that not every strong and enviable woman on the air must resemble a runway model.

[…]

Dunham's comfort in her own skin — even when bared — has become part of her cool iconoclasm. It's the reason many people see her as the voice for a new generation of empowered young women, and it's slowly helped to shift the norms of female charisma on-screen."
Here's hoping those shifting norms continue to be reflected in Vogue's pages. Like with a certain voluptuous, interracial power couple, perhaps?