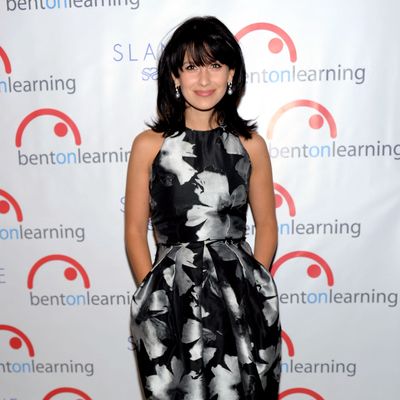 Hilaria Baldwin.
Photo: Jamie McCarthy/Getty Images
Add NYU elevator to the growing list of places Hilaria Baldwin has done yoga. The celebrity instructor, who posted a photo of her impromptu pose on Instagram this week, explained her workout whim to the Cut at a gala for Bent on Learning, a nonprofit that teaches yoga to inner-city kids. "My husband took my hand and brought me to where I went to school every day in this particular building," she told us. "I said, 'I want to do my handstand in an elevator,' and the security guard said, 'I worked at your wedding!' — which he did, because we had our reception at NYU. So he was holding the button and my husband was shooting, and then the guy let go of the button and I went up in the elevator in the handstand."
Just a couple of days before that, Hilaria shared a photo of herself doing warrior three with her arms out — a.k.a. "airplane pose" — on an actual airplane. "I asked permission," she told us. "I'm not a troublemaker." Though some of her onlookers appear to be perplexed, she assures us everyone was having a ball. "It was actually a really nice trip because we all got close," she said. "I think the yoga was an icebreaker! If you ever need to break ice, just pull out airplane pose and you'll be good." Also, fly first class, where there's room enough to stretch.