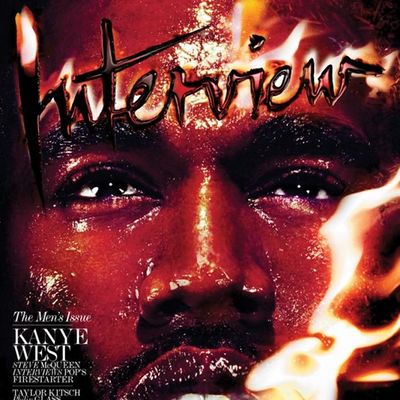 Director Steve McQueen spoke with Kanye West for the most recent issue of Interview. West, the well-known taciturn ascetic, was prepared to discuss all things personal, mental, spiritual, visual, fashionable, familial, futuristic, subconscious, and conscious. The interview covered a totality of things, including West's new life as a father with his "little space family."
When McQueen asked whether West ever feels lonely, he provided some insight into the Kimye Komplex:
Well, I've got my astronaut family. You know, becoming famous is like being catapulted into space—sometimes without a space suit. We've seen so many people combust, suffocate, get lost in all these different things. But to have an anchor of other astronauts and to make a little space family … I mean, it's not like I'm the guy in The Hunger Games [2012] begging for people to like me. I'm almost the guy with the least amount of "likes." I wanted a family.

West, whose most recent self-bestowed title is "broadcaster for futurism," also addressed his demands on the world of fashion. He lists several fashion leaders (Renzo Rosso, Bernard Arnault, and François-Henri Pinault; the heads of Diesel, LVMH, and Kering, respectively) and reports that he told them: "Come to my show and look at the mountain I made. Look at these 20,000 people screaming, and then tell me I don't deserve to design a T-shirt." He was disappointed with their response. 
The whole interview is worth reading — it manages to touch on all of Kanye's projects while tying them together in a sort of cohesive way. He also tells McQueen that he has a new phrase to describe what the media refers to as "meltdowns"— he calls them "turn-ups." A practical phrase for your everyday life, from the kreator Kanye.