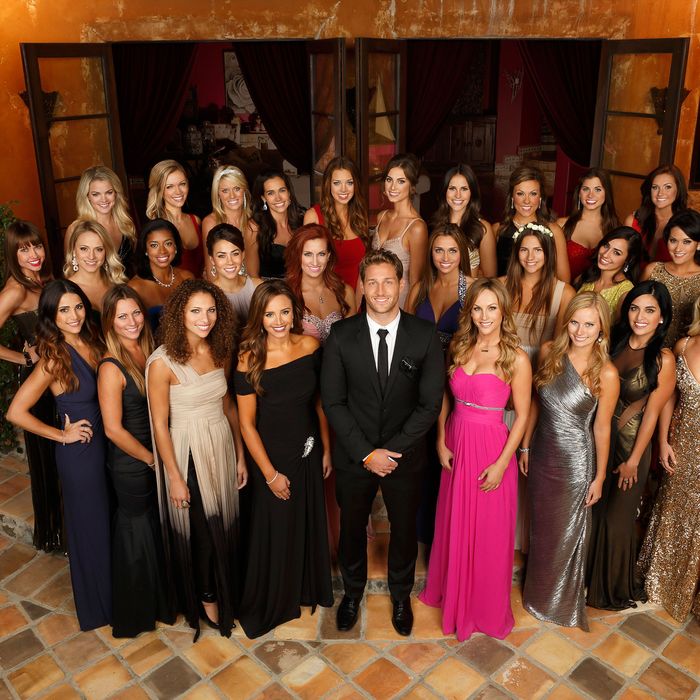 In this month's Allure, feminist literary gadfly Jennifer Weiner takes a major deep dive into the shallow end (or cesspool?) that is ABC's The Bachelor and its accompanying franchises. Weiner, a longtime fan and avid live-tweeter of the show, digs into the behind-the-scenes business, and asks the big question about the show's notoriously homogenous casting practices:
Why does it continue to present such a narrow view of femininity? Where are the brown girls, the porcelain-skinned goth girls and barefoot yoga girls, the girls with wild curls or piercings? In other words, how did a reality show get so unreal?"
Great question! Unfortunately, it's one even Weiner can't quite answer, aside from speculating about male tastes, audience aspirations, and ratings. But she can answer a lot of other questions. Like, how do contestants maintain their bikini lines, and who does their makeup?
What are the stats of the average contestants? Age; 25, size: 6; race: white.

And what does that look like in real life?  Weiner calls it the "idealized version of the girl next door: pretty but not gorgeous, stylish but not edgy, sexy but not raunchy." It's "Julie Bowen, not Sofia Vergara."
Who is responsible for maintaining their beauty routines? Why, the contestants themselves, silly! After the first night, there are no makeup artists or hairstylists on retainer. Each woman is responsible for keeping "their manicures, pedicures, bikini lines and hair color on point." Does this mean DIY waxing? Is this why at least one contestant every season is employed as an "aesthetician"?

How much clothing does each  contestant bring? Six to eight weeks' worth. Everything must fit into two suitcases that can be whisked away by producers faster than you can crush the dream of true love and Prince Charming and extend fame.
How would you describe their style?  "Something a fashion-savvy high-school girl could put together by next weekend," as Weiner brilliantly puts it — in other words, trendy but accessible. But this was before "game-changer" Emily Maynard brought Prada with her Forever 21. Now The Bachelor's ladies are more brand-aware and wear more "fashiony" clothes (though they tend to look like they came from Bebe or Express).

How do they stay fit? Well, there's no gym — cardio leaves you too winded to trash-talk your housemates. Instead, it appears producers subtly impose a starvation diet. Season-nine contestant Erica Rose says, "Sometimes there wouldn't be any food until 3 in the afternoon. It seemed to me that they definitely didn't want us gaining."

What do they do for fun?  They can't work out, as already established. Nor can they watch TV, go online, or leave the Bachelor compound — which leaves them with "endless, dateless hours to spend doing one another's hair, nails, and makeup" as well as undermining each others' self-esteem.

Is that why they all look alike? Yes. It's a Mean Girls style of bonding. According to Weiss, during one season, "They all had the same hair because Michelle Money (yep) was doing everyone's hair. During Sean's season, they all had side braids because Leslie knew how to do a side braid. They end up morphing into one another because it's the only social interaction they have." Also, Franklin A. Rose is the unofficial plastic surgeon of Bachelor cast-offs.

Well, at least the roses are real.