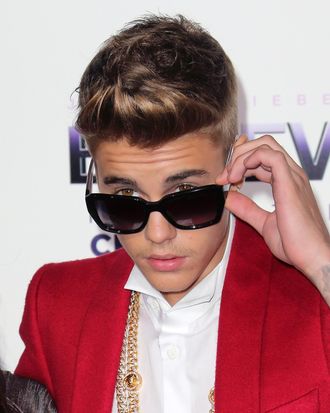 Photo: David Livingston/Getty Images
Justin Bieber has given Selena Gomez the gift every girl wants: He revived a 2008 trend just for her. Bieber took Gomez glamping.
What is glamping?, you ask, you sweet innocent who has not a shred of cultural memory. Well, my dearest, glamping is glamorous camping. It's all about being super luxurious and cushy and swanky, all while somewhat near nature. You can get Hermès folding chairs and $2,000 parkas, but it's truly best if you make like Bieber and borrow Chris Brown's luxury RV while he's in rehab. This RV, worth an estimated $1.5 million, has a master bedroom, a kitchen, a living room, and a big ego all its own. It lets you move through the outdoors while being entirely enclosed and protected from the elements.
Bieber and Gomez did their glamping in Santa Cruz. TMZ reports they stayed at KOA Kampgrounds in the RV, with Justin's father and bodyguards. While exploring the wilds, Bieber hid behind a hooded sweatshirt and sunglasses, and Gomez wore a blonde wig. Glamping in a wig! Not even Vogue's guide to glamping imagined such a thing.