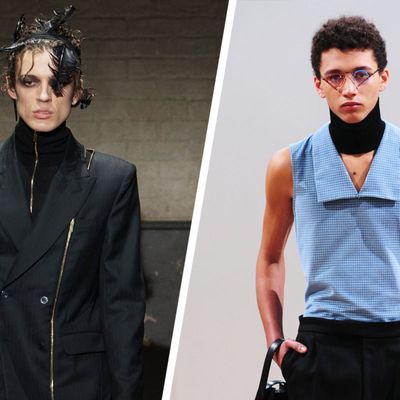 While the East Coast bears the burden of the polar vortex, it's hard to think about spring. But in the U.K., London's Menswear Week is in full swing. Last night's opening party, hosted by Esquire U.K., took place at the Rosewood Hotel – an eye-poppingly glitzy new venue with marble staircases, hundreds of long-stemmed white roses, and a gold-leafed tree at each end of the bar. There were young British actors (Game of Thrones's Kit Harington, The Hobbit's Luke Evans), TV presenters, musicians, and models (David Gandy was there, naturally) – plus all the bespectacled, hipster staff of London's menswear press, knocking back whiskey cocktails. 
It was a very British scene. London Collections: Men doesn't yet have the international pull of London Fashion Week, and the word on the street is that there are only six American editors in attendance this week. Natalie Massenet, chair of the British Fashion Council, pointed out that numbers are increasing each season, but admitted the timing – so early in January – doesn't help the cause. "The time of year is tricky, but that's the business," she told the Cut. "We're in an ever-increasing system which is speeding up and delivering more and more product. It means that everyone in the industry has to work a bit harder than the year before." For those who do attend, LC:M has a refreshing lack of celebrities, celebrity spotters, and street-style peacocks at every show. It's like Fashion Week — done the Suzy Menkes way.
Menkes was in the front row at this morning's J.W. Anderson show, typing furiously on her laptop until the models appeared. Anderson's trademark gender-blurring, experimental aesthetic creates a buzz every season – this time, there were cropped black trousers, sleeveless, collared blouses, glittering, slim-cut shirts with padded shoulders, and stacks of bangles around wrists. Bags came in the form of black-leather buckets and wooden box clutches, but the stars of the show — quickly all over Twitter like a rash — were patent-leather platform clogs and loafers adorned with bows. 
Then there was Alexander McQueen. Last season, the brand took us to a Victorian coal store, and this afternoon, the show took place in an even more haunting location: the dilapidated Welsh Chapel on Charing Cross Road. Guests filtered into the dark space surrounded by peeling gilt paint, grubby stained glass, and marble columns, and sat on folding chairs under a dusty dome ceiling.
The collection itself was almost entirely black and grey, with occasional brilliant flashes of gold. Kilts were worn over trousers as part of sharp suits, and sweaters looked chunky and loose, like they'd been hand-knitted. The models wore spiky black-feather headdresses and walked to the song "Bela Lugosi's Dead" – and noticeably, also wore platforms. Unlike Anderson's, theirs were of the brothel-creeper variety.
Whether platform shoes become a major menswear trend this fall remains to be seen. Like everyone involved with LC:M, the teams at J.W. Anderson and Alexander McQueen will be hoping it's not just a London thing.