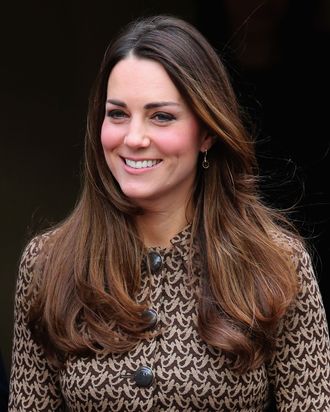 Photo: Chris Jackson/Getty Images
The Daily Mail reports that, for the third year running, Kate Middleton has claimed the honor of being the U.K.'s No. 1 one beauty icon. The beauty equivalent of "I beat Meryl," Middleton bested Beyoncé, who this year claimed the No. 3 spot. Although they all had spots in the Top 50, Cheryl Cole's enormous rose butt-tattoo, Angelina Jolie's lips, Cara Delevingne's eyebrows, Emma Watson's elegance, Victoria Beckham's poised bitchface, and Adele's sixties hair were no match for the duchess.
But Kate did not claim this year's title without some trials along the way: There was that gray hair situation, the $984 haircut, lost beneath a diamond tiara, and the sad, droopy ponytail. Ultimately, it was probably her shiny, glossy hair one day post-birth that helped her to clinch the title. Her sister Pippa claimed the No. 22 spot, putting her ahead of Kim Kardashian at No. 24 (the other Kardashians do not appear on the Top 50.) It seems the U.K. does not Keep Up With the Kardashians.