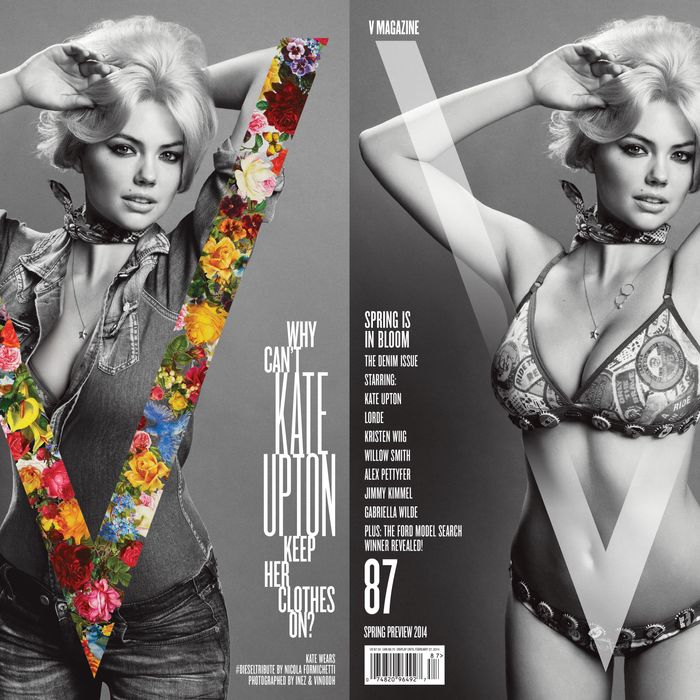 Photo: Courtesy of V Magazine
Kate Upton didn't become Kate Upton in the course of two years without being savvy. It takes a real understanding of what you're good at (posing) and what needs work (acting) to become a supermodel. In the interview accompanying her Inez van Lamsweerde and Vinoodh Matadin-shot cover of V Magazine, Upton shares what she sees as the greatest assets to her career:
"Ah, the ladies," she says, looking down at her cleavage with devil-may-care abandon. "Everyone brings them up, so I have to have something to call them." Although she is the beneficiary of the positive buzz that social media can bestow, Upton claims to be more than a little embarrassed by some of the attention she and the ladies receive online: a recent video posted on YouTube featuring 10 hours of her bajoingles bouncing up and down in slow motion has received approximately two million views (and counting).
Outside of her "bajoingles," which the writer kindly notes should be eligible for their own SAG card after their performance in The Other Woman (even if she admits that she herself was "out of her league," talent-wise), Upton is confident in her ability to pose from her early days as a catalog model. "I now suffer from Catalog Tourette's," she says. "I can switch a pose like it's no one's business. As soon as I hear a camera click, I'm on. I tell you, it's a serious nervous condition."
She's accepted, though, that she will never be a quirky, funny-faced model like Coco Rocha or Cara Delevingne. Kate says: "The truth is that I can't do facial expressions like Coco and others do. If I pull a goofy face, it doesn't look cute; I look like a dying animal. But I guess someone likes what I am doing."