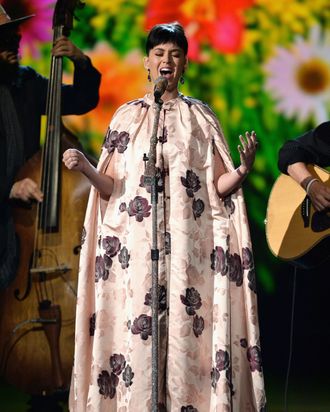 Photo: Kevin Winter/Getty Images
Katy Perry has become the first person to reach 50 million followers on Twitter. Apparently, Katy Perry and Justin Bieber are in a race of sorts over these numbers: Last June, Bieber reached 40 million followers first. But he's not good at racing anymore, so the cake was Perry's to take.
Judging from her Twitter biography and only her Twitter biography, Katy Perry is a person who lives in REALITY, loves CAPS LOCK, and has confusing instructions regarding letting light in and out:
LET THE LIGHT IN. PRISM. OUT NOW!
Well, it seems we are at an impasse regarding illumination. But 50 million people! That's 0.7 percent of the world's population, and also the population of the 26th most populous country on this earth, South Korea. Is everyone in South Korea following Katy Perry? Something apparently necessary to note about these things is that some of these 50 million people might be fake — maybe like 42 percent. Is 42 percent of South Korea's population fake? Why is Katy Perry silent on this issue? Is PRISM a sting? Who has the answers?