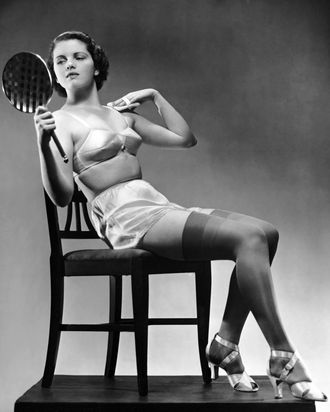 Photo: George Marks/Getty Images
A few months ago, I had lunch with a French beauty publicist who told me about a French beauty product that I had never heard of: bust cream. "All French beauty lines have them!" she exclaimed, "but no one in America uses them." Not content to sit back like a stupide Americain, I proposed an experiment to my Cut colleagues: We would take a cue from the French and, for a month, slather expensive French botanicals on our boobs in the interest of firming, lifting, and conditioning our breast tissue. Read on for four editors' accounts of their months with breast cream — and whether there could be a placeboob effect.
Allison Davis, associate editor: I try to go braless whenever possible. Then, one day, I was shimmying just a bit while out to dinner when I realized there was a lot more movement than usual. My breasts had a lot more swing to them (the image of seals clapping comes to mind). I tested out a French cream called Talika that promised to put the generosity of nature's bounty at my fingertips with some combination of beauty secrets from Africa and ayurvedic methods. So absolutely, it was going to work! Puberty and time might have failed me, but synthetic Mother Nature was going to pick up the slack.
For 28 days straight, I got out of the shower and rubbed my breasts in an upward figure-eight motion (as instructed) until the cream was fully absorbed. I didn't feel a tingle or a tinge, which made me question the effectiveness of the cream, but starting every day with a sensual, fruity-smelling massage upgraded my self-care process by a lot. The "natural push-up effect fluid" promised a 71 percent increase in volume, a 71 percent increase in firmness, a 66 percent increase in lift, and a 97 percent increase in hydration. After 28 days only, one of those promises came true. My skin was never smoother or more hydrated. My breasts, however, still require a bra. 
Sierra Tishgart, assistant Grub Street editor: When I learned that Sisley Paris charges $265 for a so-called "bust compound," I assumed that it would miraculously turn my mosquito bites into juicy, juicy mangoes. Turns out, this cream promises to do no such thing: It's supposed to tone and create a firm "natural bra," kind of like Kim Kardashian's gravity-defying, nippleless breasts in the "Bound 2" video. After one month of applying the cream daily, my breasts felt softer. But that was the only noticeable physical change. Since I'm an A-tryin'-to-be-a-B cup, perhaps there wasn't much to work with in the first place.
Still, despite the fact that the cream didn't fulfill its promises, I became attached to it. I missed it before it was even gone. I started budgeting to figure out how I could afford a second bottle. Is it cheaper in France? Who knew I could become so fond of "horsetail, ivy, tormentil, yarrow, and red vine"? Eventually, I realized that there was a placeboob effect at work.
Massaging this fancy cream onto myself became a luxurious daily ritual, especially delightful in the cold winter months. The best thing the cream gave me was a rediscovery of a pleasure that's simple and free: touching yourself.
Kathleen Hou, beauty editor: When we set out on this experiment, I rationalized a best-case scenario: I find another expensive luxury for my girls (if Kate Upton has ladies, mine are most certainly girls, or maybe toddlers that just learned to walk), like an expensive La Perla bra. Worst-case scenario: I'm extra-moisturized everywhere.
As the instigator of this beauty experiment, I felt obligated to pick the bust creams that required the greatest investment of time and energy. Thus, I tried out a morning bust gel and a nighttime bust cream from the ever-trusty Clarins. Surely if the brand's Double Serum effectively double-moisturized and anti-aged my face, its morning and night bust creams would keep me lifted and supported from dusk to dawn.
I had dutifully taught all the testers the criss-cross figure-eight motion that the French publicist swore was key to the creams' effectiveness, and did the same. The texture of the morning gel was like a serum, while the night cream was like the world's richest face cream. Generously blanketing myself in both formulas made me feel like an off-the-bloom starlet forced to have a compulsive bust-beauty regime out of fear, like Jennifer North in Valley of the Dolls. I was even emboldened to try the nighttime bust cream on my legs. And completely shocked when, the next morning, an extra nipple sprouted on my ankle! (Just kidding.) My leg just felt as soft as my breasts have been in the past 28 days. Like some of my fellow testers, I worry that I may not have seen greater results due to not being particularly well-endowed in the first place. But a little extra self-love and moisture never hurt anyone.
Sally Holmes, associate editor: The Orlane cream itself was pleasant both in terms of scent and texture. I'm not a full-body-moisturizer-post-shower person — I usually apply lotion to my face and then call it a day — so the fact that I was even applying cream to my body was an improvement to my routine. I dutifully slathered the stuff on post-shower every day and every night I could remember to for about two weeks before I started to forget my morning boob dose in my pre-work frenzy. Perhaps if I had started to notice some tangible results, I would have been better about remembering to moisturize — but unfortunately, I didn't wake up one morning with buoyant Kate Upton breasts at any point during this experiment. But I did notice that my skin was softer and, maybe, slightly firmer. It could have just been my Sahara Desert skin reacting to any sort of moisture it was exposed to, but I would love to think that it was this magical bust cream  that made my chest so smooth. Though considering the price tag, maybe I should invest in some old-fashioned Lubriderm.