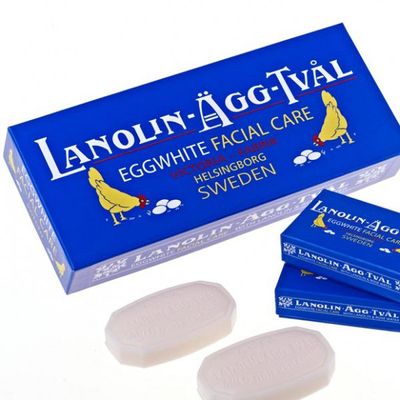 A few weeks ago, I was browsing at Catbird, looking covetously at all manner of cat rings and pretty basic hoop earrings, when I stumbled into the store's new beauty section and saw Lanolin-Agg Tval. Unfortunately, the phrase didn't mean "90 percent off sale," but instead referred to a mystical and mysterious Swedish egg-white soap that cost $1 (not a typo, the Catbird saleslady informed me). Could something that cost less than a subway ride or an organic egg be of any benefit to my skin-care routine? Was this soap the secret to the poreless skin of Swedish fashion bloggers?
A Google search for egg-white soap reveals a hidden treasure trove of rave reviews on Amazon and MakeupAlley that laud this secretive soap for tightening, brightening, and clearing complexions. Allegedly, this soap is a Scandinavian beauty secret, responsible for the glowing, bright visages of Swedish and Nowegian women. It also became popular in Korea a few months ago. From my obsessive reading of the Seventeen magazine beauty section as a teen, I recall that egg-white masks were a popular home remedy for tightening pores. Dr. Perricone is even launching a moisturizer this month, harnessing the anti-aging and protective power of the eggshell membrane.
In its simple, cheerful cardboard box, the one dollar soap looked like a country bumpkin next to my Japanese cleansing oils and English muslin cloth cleansers. It was like humble calico next to silk faille. It also looked tiny, since my $1 had bought me only a travel-size portion. Scent-wise, it smelled like creamy rosewater, like fancy guest soap that your grandmother might put out. Its main ingredients are lanolin (soap), egg-white powder, and rosewater. Notably, the soap foamed quickly and easily into a rich lather. The first time I used it, I didn't lather it enough, and it left my dry/combination skin feeling a little tight. The second time I used it, I tried it as a five-minute face mask, as suggested by the Internet reviews. This time, I worked the soap into a rich lather and let it sit on my face for five minutes before rinsing it off. Although it didn't do anything to inhibit a imminent breakout I knew was coming, my face felt soft and gentle and looked bright. The tight feeling had disappeared.
A few hours later, I couldn't even remember if I had washed it already, which is something that hasn't happened since I last used Cetaphil. Maybe this super-easy, gentle egg-white soap is like the Scandinavian version of Cetaphil? I still prefer a deep-clean feeling, so I'm not sure if the soap will be an everyday part of my skin-care routine, but I will certainly make room for the tiniest egg-white soap in my travel case. You can find Lanolin-Agg Tval at Catbird or on Amazon.com.