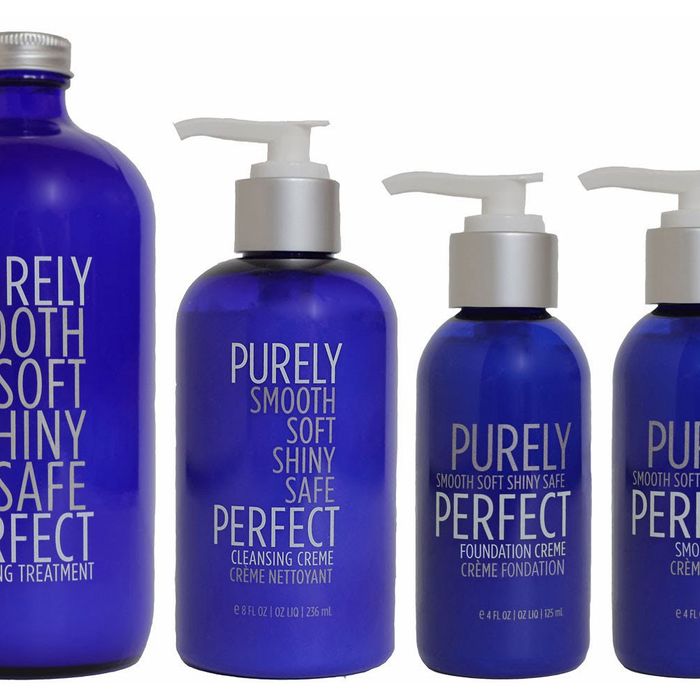 Washing my hair with conditioner is typically an accident, induced by a careless grab of the wrong bottle or temporary blindness (burning soap in my eye). But when a cleansing and conditioning cream called Purely Perfect (a two-in-one) crossed our desks, we decided to see if this accident-prone method had any merit for actual shampoo-washing. Although expectations were low, the claims were bold. Purely Perfect promised to be the first cleanser that wouldn't "f*** up" your hair.
But how f***ed up was our hair in the first place? Well, if you believe detergents and sulfates, common cleansing ingredients in most mainstream shampoos, are harmful for hair — pretty f***ed up. These ingredients, which cause shampoo to lather, strip hair of expensive coloring treatments and can dry it out — curly hair in particular. Purely Perfect is sulfate- and detergent-free, and is the first product launch from Michael Gordon, an original founder of Bumble and Bumble. To put this shampoo to the test, curly-haired Maggie Lange and I tested out whether washing our hair with this conditioner, or co-washing, had any benefits.
Maggie Lange, associate editor
Like many women, I've made a lazy-masquerading-as-wholesome resolution to use less shampoo in my hair. This has been going poorly. A mix of forgetfulness and bad hair days has kept me in the suds. But the hyperbolically named two-in-one (shampoo and conditioner) Purely Perfect Cleansing Creme has been the first product to help me out. 
The most impressive thing about Purely Perfect is its density: Only the tiniest amount is needed, even for my mass of complicated curliness. This stuff is thick but not heavy, packing a wallop of moisturizing goodness in the tiniest smidgeon. Aloe is high on its ingredient list. In its minor-but-major product description, Purely Perfect also has a wonderful scent — mostly rose (the elegant kind of rose smell, not the grandmother-perfume rose smell) with some fresh mint, a little balsam, and a little citronella. 
After using the product, my hair was soft and felt decently moisturized without being laden with product goop. The curls were on the fluffier side rather than being well-defined. It's a wispy look. I'm not interested in a full-time thing with any hair product right now, and I will also note that on particularly greaseball, post-heavy-exercise days, the cleansing cream was a little weak in the face of actually dirty hair. If a real cleaning job was needed, Purely Perfect left my hair a little grimy, especially at the roots. It's not a deep-cleaning product, but this stuff seems ideal for the everyday, when you don't want to strip your hair of its goodness, but you want to give it a little gentle cleaning and a little soothing moisture.
Kathleen Hou, beauty editor
Using this shampoo was a weird experience, because it robs you of many of the things you associate with a washing your hair. There are no bubbles. There is no lather. There are no separate bottles for shampoo and conditioner. But that simplicity made washing my hair with Purely Perfect the easiest experience. Since it doesn't really "transform" into anything upon adding water, the cream absorbed into my hair and there was nothing to rinse out or work into it. Once I did wash the product out, my hair was the softest it had been in months, like I had just washed my hair using a moisturizing hair mask.
At its best, my fine hair is coaxed into a natural wave whose bedhead-y texture increases between washings. When it's too clean, or weighted down with too many heavy products, it's very straight. After using Purely Perfect, my hair, unfortunately, was stick-straight and lacking in volume. Perhaps this was a result of my hair adjusting itself to its soap cleanse. But a few spritzes of sea-salt spray easily restored its wave. I still like the way my hair looks after using Shu Uemura's Shimmer Illuminating Shampoo more. But, like a low-maintenance face wipe, I'll keep this on hand for particularly lazy days.