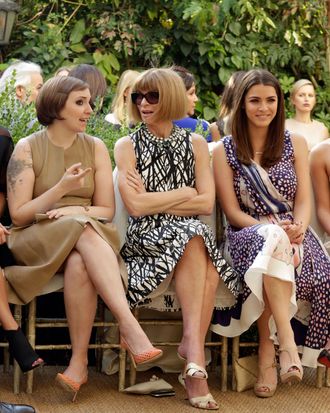 Photo: Jeff Vespa/WireImage
"Page Six" reports that the February issue of Vogue will be devoted to Girls, and that creator Lena Dunham will appear on the cover.
Will Girls keep its characteristic pastel grit, or will it be polished down to Vogue-approved radiance? Will Dunham be gleamed up and cropped and draped in ways ripe for conspiracy theorizing? Will the cognitive dissonance between embarrassed vérité and the glossiest gloss just cause the magazine to explode, sending fashion spreads flying and sprinkling perfume samples all across Brooklyn?
We don't know yet, but don't worry, kids — there will be plenty to overanalyze.