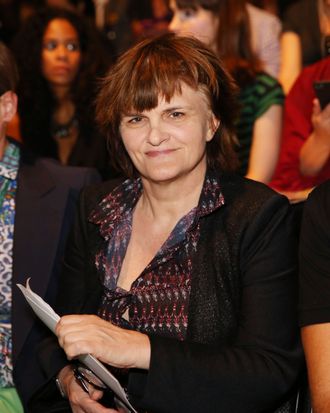 Photo: Chelsea Lauren/Getty Images
Cathy Horyn is leaving her position as the New York Times's chief fashion critic for personal reasons, the paper announced today. In her fifteen-year tenure, Horyn established herself as the definitive voice of fashion criticism: She had a unique ability to anoint young designers and, conversely, to derail them. Once referred to as "fashion's most feared critic," Horyn has remained, in her own way, unafraid of negative reviews — and unwavering in her use of unflattering similes. (On one occasion, she likened a great American designer to a hot dog.) Horyn's cutting reviews got deeply under people's skin: She has been banned from countless designers' shows, such as Carolina Herrera, Dolce & Gabbana, Giorgio Armani, and Saint Laurent. She's had full-page ads taken out against her and been the subject of an insulting Lady Gaga song. Below, our timeline of Horyn's most memorable feuds and scandals as the Times's leading fashion voice.  
September 9, 2007: Horyn is banned from Carolina Herrera's show because of her review of the previous collection, which she called "remarkably irrelevant."
December 31st, 2008: In a story called "What's Wrong With Vogue?" Horyn takes the magazine to task for its handling of the Recession. "For the December issue, it sent a writer off to discover the 'charms' of Wal-Mart and Target," she wrote. "A similar obtuseness permeates a fashion spread in the January issue, where a model and a child are portrayed on a weekend outing with a Superman figure. Is a '50s suburban frock emblematic of the mortgage meltdown?"
Feburary 2008: After a comment she had made about his last collection, Horyn is banned from Armani. (She explains to readers that Giorgio Armani believed her previous review was "belittling of his family and friends.")
July 23, 2010: Horyn publishes a takedown of, of all people, Snooki! It doesn't go over so well.
September 13, 2010: Horyn has some choice words for fashion-world darling Alexander Wang, whom she calls "not a great designer, though he probably would be happy to accept any laurels that people want to toss him, but he is clearly a shrewd guy." She continued: "Mr. Wang doesn't really have courage in the traditional sense of trying something new and difficult, but he does have China. Nearly all of his clothing is now produced there."
September 13, 2010: Horyn spends a lot of time thinking about the fancy, giant box that arrived at her office containing the invitation for Tommy Hilfiger's 25th anniversary show. It was, in Horyn's eyes, completely symbolic. "For Mr. Hilfiger, the runway may be paved in imitation fieldstone," she wrote, "as it was on Sunday night in the Lincoln Center show space, but it's still a big Sisyphean ball of khaki."
September 2011: Lady Gaga publishes a column in V  bashing Horyn's style of criticism and asking, "When did the pretense of fashion become more important than its influence on a generation?" Later, she releases a single, "Cake Like Lady Gaga," with the lyric, "Cathy Horyn, your style ain't dick." And, with one far below the belt, hurled an insult at Horyn's partner, Art Ortenberg: "Ortenberg, you can suck my dick."
September 2012: After comparing calling Oscar de la Renta the "hot dog" of American fashion, Horyn opens her WWD to see a full-page ad from De la Renta calling her a "stale 3-day old hamburger." So, so mature.
October 3, 2012: Hedi Slimane's return to fashion as the creative director of Saint Laurent was much anticipated – but Horyn was not invited, because Slimane was still sore about a piece she had written in 2004, about Raf Simons. But, reviewing Slimane's debut Saint Laurent collection from her home computer, she decided that she didn't like it anyway, calling the collection "a nice but frozen vision of a bohemian chick at the Chateau Marmont. Or in St. Tropez." Slimane lashed back on Twitter, calling Horyn a "a schoolyard bully and also a little bit of a stand-up comedian," and "publicist in disguise." Horyn responded by saying, "It's silly nonsense to me."