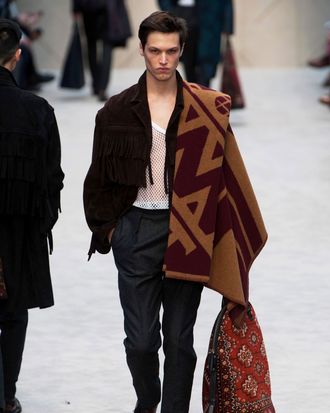 Photo: ARMANDO GRILLO/Imaxtree
LONDON — Last season's Burberry Prorsum menswear show gave us preppy London boys in paintbox-bright sweaters, ties, and deck shoes in a so-called "Writers and Painters" collection, inspired by Alan Bennett and David Hockney. But for fall/winter 2014, the boys have grown up and the writers are gone. The collection shown at London's Kensington Gardens today was called "A Painterly Journey," and had a new set of artistic muses: Ben Nicholson, Christopher Wood, Lucian Freud, and Duncan Grant.
This time, the models were more like men of the world: The journey part of the title was significant — they wore silk scarves and trench coats printed with London maps and landmarks, and carried enormous travel totes in hand-painted leather and suede.
Then there were cashmere "equestrian blankets" worn like scarves – most of the models were in mesh T-shirts, so maybe Christopher Bailey just wanted to make sure they were warm enough. There were also billowing silk "artists' shirts" with leaves and flowers. Compared to last season, the vibe was altogether foppish.
Off the runway, Suki Waterhouse and Paloma Faith posed for photographers and then sat front-row, dressed in head-to-toe Burberry. The Cut was also able to observe a hitherto unknown fact about David Gandy:Every single time he poses for a photo, he follows up with a generous You're welcome wink for the photographer. You get a photo and a wink.
From the Cut's perspective, it was striking how much of today's collection could be worn by women, too. One sweater had an image of St Paul's Cathedral knitted into it and looked entirely unisex to us; the silk scarves and tote bags could easily have come from the womenswear line. It will be interesting to see whether Bailey goes down a similar route with next month's collection – we can certainly picture Cara Delevingne in a mesh vest and cashmere blanket.