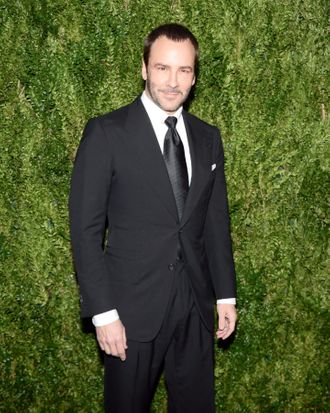 Photo: Joe Schildhorn/BFA NYC
LONDON — With over 60 designers having shown at London Collections: Men since Monday, it's been a hectic start to the week. Thank god, then, for the oasis of expensively scented calm at the Tom Ford presentation.
For menswear, Ford always invites journalists to his London office, where they are ushered by stunningly good-looking staff into a showroom, given a glass of Champagne, and treated to ten minutes with the charming designer himself. Yesterday, we knew there was important news coming when he took a deep breath and announced, "I swore I would never do a tennis shoe."
Spoiler alert: Tom Ford has done a tennis shoe for fall/winter '14, though (naturally) it's a spectacularly upmarket version – made of hand-finished leather, polished in a process that takes three days. "I couldn't help but do them also in velvet – I love velvet," he added.
The new collection introduces what the brand is loosely calling sportswear, though it's more like a luxurious wardrobe for the weekend: down-filled, tailored jackets, cashmere hooded sweatshirts, moleskin jeans, and high-tops. Colors are mostly dark, with a smattering of warmer shades – "I hate the word spice, but it is applicable here – they're deeper spice tones," Ford told us.
After the presentation, we were invited to explore the showroom and touch the fabrics. If there's a man in your life who has a spare several thousand dollars and would like to be prepared next time a polar vortex comes around, tell him that the down-filled parka lined with coyote fur might be the softest, warmest thing in the world.
Sportswear might be the brand's new thing, but it wouldn't be Tom Ford without something fabulously impractical. Fear not – alongside the outerwear and suits, there was a long rack of velvet jacquard smoking jackets and silk robes in rich blues and purples. When it comes to ostentatious luxury, no other designer at London Collections: Men can compete.
As usual, Tom Ford didn't allow photographers into his presentation — which means we'll update this post when they're released.