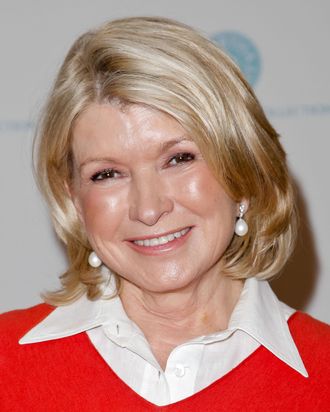 Photo: Tibrina Hobson/FilmMagic
By celebrity standards, Martha Stewart's beauty routine (as detailed in the New York Times) is downright quaint: According to Cut calculations, her skin-maintenance method costs an estimated $2,000 — minus makeup, personal-training services, or any plastic surgery. Consider that Jennifer Aniston, for example, has a rumored $14,000 beauty regimen.
$2,000 gets Stewart Johnson's Baby Oil (one of her preferred cleansers), Clé de Peau Beauté Intensive Eye Contour Cream ($250), monthly $62 facials at Mario Badescu (Aniston goes to a $450 facialist), and a multitude of ugly sun hats (that is, until she launches a line of adorable sun hats coordinated to perfectly match the handle of your pruning shears). Other Martha revelations:
She is not afraid of face oils.
 I like oil because it keeps my skin very moist, and it works for me. 
Much like your boyfriend, she doesn't understand the difference between face and body lotions.
I use the same products on my body as I use on my face.
She mists once an hour on planes.
On a recent plane ride to L.A., I sprayed myself five times. It's hydrating, so I don't look like a prune after flying.
Pores don't clog on Martha's watch.
I don't get clogged pores.
True to form, the best lesson to take away from Stewart's beauty regimen is that she gives zero fucks what you think. She will mist, oil, wear face masks fives times a week, wear ugly sun hats, and cherish her non-DIY, "cheap" beauty routine as she pleases.