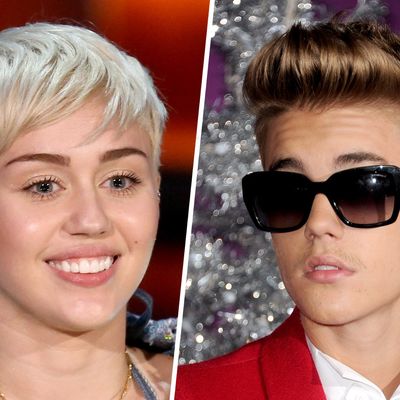 Photo: Christopher Polk/Getty Images for MTV; Kevin Winter/Getty Images
For the past several months, every talk-show host and pop-culture interrogator has asked their subjects if they have advice for Miley Cyrus. Solicited or not, a battalion of celebrities have tips — Gloria Steinem and Rosario Dawson, Rashida Jones, Melissa Joan Hart, Alyssa Milano, Debbie Harry, Vanilla Ice, Sinead O'Connor (thrice), Demi Lovato, Cher, and Erica Jong. Interviewers just can't stop asking Lorde. Sufjan Stevens told Miley what grammar to use, old Jewish men who don't leave the office told her what music to play, RuPaul told her what makeup to wear. So many of them have advice! But in these months, why has no one asked Miley Cyrus for advice? As it turns out, everyone should turn to Miley for tips, because Miley Cyrus gives fantastic advice!
It took Justin Bieber's mishaps (assault in Canada, reckless driving in Miami) for someone to decide that Miley might have some insight. On The Tonight Show, Jay Leno asked Cyrus about any tips she might have for the young reckless elf-man:
You've got a lot of money. Pay people to make sure you don't get into trouble. Party at your house. Buy a house. Add a club to it.
Clear, simple, effective, actionable, and it sounds fun. Meanwhile, her father, Billy Ray Cyrus, has told Justin Bieber to chill and come hang out with him in a teepee.